History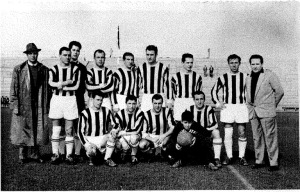 A famous history continues....
Today a mutlicultural, locally-oriented club, Brunswick Zebras FC enjoys a grand heritage flowing from a continuing involvement from key families, ongoing use of its spiritual home at Sumner Park and its still current wearing of the foundation black and white stripes of Italian giant Juventus. And the serving of good coffee and warm hospitality.
The club was formed in 1948 as Brunswick Juventus by Italian migrants from an amalgamation of several smaller clubs. Brunswick Juventus became the dominant side in Victoria in the 1950s, winning six titles, including five consecutive titles from 1952 to 1956, and were arguably the club which ushered in the European migrant dominance of Victorian football.
In the 1960s, while the club remained more than competitive, the rise of other migrant clubs, principally saw this dominance ended and the club waited until 1970 to add to its senior men's trophies.
The club largely struggled in the Victorian league during the 1970s after their 1970 championship, though there were also four Dockerty Cup wins during this time.
In 1980 the club changed its name from Juventus to Brunswick United Juventus.
When the National Soccer League created the north/south conference system in 1984, Brunswick finally joined the national league ranks.
The club reached the finals in its debut NSL season but even better was to come.
In 1985 the club enjoyed its greatest achievement, the 1985 NSL title, defeating Heidelberg, South Melbourne and Preston in the southern conference play-offs before eventually defeating Sydney City over two legs in the grand final.
In 1986 Brunswick finished first on the southern conference table, but consecutive losses to Adelaide City and Footscray JUST in the finals ended its season and was the last season in which it was a force at national league level. An eighth place finish in 1987 was followed by a 13th place finish in 1988 and relegation to the state leagues.
Success returned at State level where the club won its eighth Victorian title in 1991.
Rejoining the NSL for the 1993/94 season as Brunswick Pumas and later Melbourne Zebras, the club struggled for two seasons before, in 1996, it was demoted to the Victorian Premier League competition, Victoria's top men's senior division.
When the senior men's teams left the club in 1996 to seek their fortunes elsewhere in a series of mergers with other clubs, the original club remained at Sumner Park its traditional home and over the years rebuilt its player base reforming men's teams to play in the State League and expanding into women and girls football.