History Timeline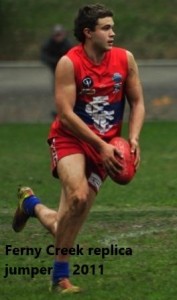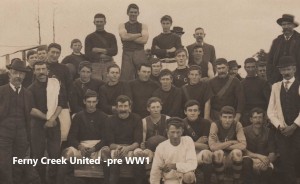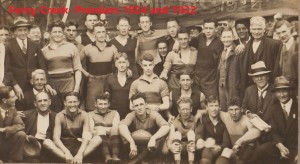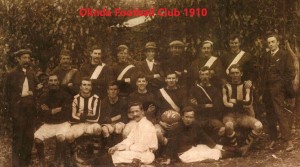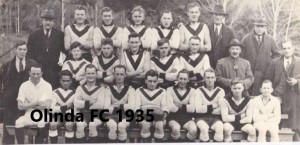 OFCFNC wishes to thank Armin Richter from Monbulk Historical Society who provided many of the early years details.
Please also refer to PDFs at bottom of page for newspaper documents re James Wyles, Olinda and Ferny Creek Grounds, One Tree Hill FC and pre WW1 Matches.
The PDFs also include our series on our "Greatest Players" .
One Tree Hill Football Club (red and black colours-most likely a sash)
1902- One Tree Hill Football Club formed. There may have been a competition also involving Monbulk and FTG. Matches were played in the paddocks of W Breen (President). Breens paddocks are near the intersection of the Mt Dandenong Tourist Rd and Sherbrooke Rd.
Percy John Beswicke kicks all OTHFC's four goals against FTG and later becomes our first VFL player ( see PDF below)
1903- FTG joins The Reporter Association ( focused on Box Hill). OTHFC complains it's impossible to travel by train to play Canterbury. OTHFC and Monbulk didn't follow FTG to The Reporter league but did clash in a Challenge game.
1905- residents of Sassafrass and One Tree Hill discuss forming another football club with Tom O'Don as secretary and treasurer. Sassafrass plays a Challenge game against Monbulk.
A number of people associated with OTHFC went on to form Ferny Creek United FC
Ferny Creek( United) Football Club ( red and blue colours. "United" seems to have been dropped from the name after WW1)
1907 - Ferny Creek Club formed and was subsequently named Ferny Creek United. Ferny Creek played Belgrave in a match .
A report in 1910 said FC United consists of the "young bloods of Ferny Creek, Sassafrass and Sherbooke."
The captain W Sharpe was from Sherbooke, Hon Sec Gordon Bird was from Ferny Creek and the President C Earney was from Sassafrass.

1910 - Olinda, Ferny Creek and Monbulk play each other four times- according to Life Member Charlie Hackett.
1911- first mention of Mountain District Football Association with Belgrave joining the other three clubs.
1912 - Ferny Creek lose the final game, and the premiership, to Monbulk by four points. Charlie Hackett wins the MDFA goal kicking with 24 majors.
1914-15- there is evidence FC United played some games in these years.
1919- Ferny Creek and Monbulk again battle for the flag and this time the red and blues are succesful after Monbulk loses points from six games for playing an ineligible ruckman.
Monbulk challenge the league ruling, and it ends up in the County Court. Newspaper reports say they are "non suited" (unsuccesful). We have found no reports of further court cases but a number of later reports agree that Monbulk won the flag.
See PDF below
1920- Ferny Creek refuse to play in the Mountain District Football Association, which is composed of only Monbulk, Emerald and Gembrook.
1924 - Ferny Creek were premiers beating Belgrave in the Grand Final . FCFC played in five grand finals in a row for this one victory.
1925 - Ferny Creek play in the Scoresby District Football League ( there is no record of MDFA playing that year) and lose Grand Final to Fern Tree Gully.
1932 - Ferny Creek defeat Boronia in the MDFA Grand Final. However Boronia protests that the final bell went too early and the MDFA orders the match be replayed. FCFC refuses, claiming many of it's players were unavailable because of work. The flag is awarded to Boronia. FCFC always counted 1932 as a premiership year,
1933- Ferny Creek disbands after this season with many of it's greats, such as Charlie Hackett and Henry Linden, beginning to age. Jolly Rowe is awarded the MDFA medal for best player.
1933 - Ferny Creek Football Club Disbanded

Olinda Football Club (initially wore stripes but after their 1934 reincarnation wore white guernseys with a red v and blue socks)

1908- Olinda Football Club was formed and played two challenge matches against Monbulk, winning both.Also played Ferny Creek and The Basin. James Wyles is captain.
See PDF below
1910- Olinda defeated Ferny Creek in the Grand Final (deciding match). It's believed there was only one other team in the competion (Monbulk). Although there is no clear evidence OFC was named premier we have scores from the year showing OFC beating FC United 8.19 to 2.7 and FC United beating MFC 14.29 to 1.5.
1914 -Olinda Football Club Disbanded. 1913 Best Player Peter Johnston joined the AIF and was mortally wounded at Gallipoli the following year.
Former skipper James Wyles dies on the Western Front.
1934 - Olinda Football Club Reformed with a number of the Ferny Creek boys joining the red and whites. It's believed they played with blue socks to recognise the FCFC input.
1939 - Olinda merges with Monbulk for one season and plays in the Ringwood District Football Association. Olinda-Monbulk made semi finals but lost consecutive games to Boronia and Ringwood.
Only a month earlier O-M had outplayed Boronia 15-14 to 13-9.
The captain was John Mitchell from Monbulk while the President was G Cronin from Olinda.
On July 1 the match against East Ringwood is abandned at 3/4 time with snow on the ground. OFC is leading 6-12 to 2-1 at the last break.
1940-1945 Olinda does not compete due to the war
Olinda Ferny Creek Football Club
1946 - The Olinda Ferny Creek Football Club is formed
1951- OFC loses MDFL grand final
1946 - 1964 Olinda Ferny Creek plays in the Mountain District League
1965 - Olinda Ferny Creek joins the Eastern Districts Football League
1965 - Olinda Ferny Creek defeats Coldstream in the Grand Final
1966 - Olinda Ferny Creek defeats Wandin in the Grand Final
1967 - Olinda Ferny Creek defeats Mooroolbark in the Grand Final
1968-77 Olinda Ferny Creek participates in third division Edfl
1978 - Olinda Ferny Creek defeats Coldstream in the Grand Final
1979-84 Olinda Ferny Creek participates in second division Edfl
1985 - Olinda Ferny Creeks final season in the Edfl
1986 Olinda Ferny Creek commences in 1st Division Yvmdfl
1987 Olinda Ferny Creek competes in 2nd Division Yvmdfl finishing 3rd
1988 Olinda Ferny Creek defeats belgrave in the 2nd Division Grand Final
1989 - 04 Olinda Ferny Creek participates in 1st Division Yvmdfl
1991 - Olinda Ferny Creek loses 1st Division Grand Final
2005 - Olinda plays in 2nd Division Yvmdfl
2005 - Olinda Ferny Creek defeats Sth Belgrave in the Grand Final
2006 - 2008 Olinda Ferny Creek participates in 1st Division Yvmdfl
2006 - Club enters Netball competition for the first time with 2 teams
2007 - Club formally becomes known as Olinda Ferny Creek Football Netball Club (OFCFNC)
2009 - Olinda Ferny Creek competes in 2nd Division and wins the Seniors Reserves and Under 18 Premierships
2010 - Club returns to Division 1 and the U18s claim the clubs first ever 1st Division Premiership Flag
2010 - Netball program expands to 3 teams with C Grade becoming the 1st ever finals side
2012 - Netball program expands to 4 sides
2013 - Olinda Ferny Creek U18s claim Division 2 Premiership Flag.
2016- Reserves win YVMDFL Div One premiership
2017- OFC wins Div One Premiership
2019- 7 Clubs from South Eastern competition join YVMDFNL
2019- YVMDFNL rebranded as AFL Outer East with three divisions.
2019- OFC plays in the AFL Ouer East top division "Premier"
2019- A Grade netball makes it three flags in a row
2020- season abandoned because of Covid virus
2021- OFC fields a team in womens competition (see PDF below)