Latest News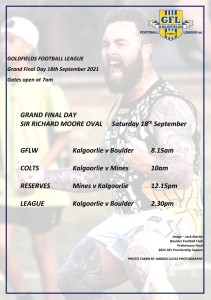 GRAND FINAL WEEK HAS ARRIVED
Well, the time has arrived, and we get to the big dance today with 4 exciting games to go and the season 2021 coming to end. Just reflecting on the year, we have had it had its ups and downs, but the goal was to play footy and we got through to the end to be here today and I know I won't be the only one relieved tonight to have got through the season!
I would like to take this opportunity to thank the GFL commissioners for all their hard work this year it's made my job a lot easier and having the support from all involved has been appreciated. None of us knew what we were jumping into and at times it has been challenging. The outgoing Commission had done a lot of hard work that they were not acknowledged for and one thing we quickly found out is that it can be a thankless task and a daily challenge. We have been well supported by our club presidents who have appreciated the task it was to get footy back and hopefully next season out meetings won't be quite so long! To all the Volunteers that help at clubland thank you for all your hard work and keeping your clubs running. Without volunteers footy doesn't happen so a big thanks to Presidents and committees, coaches, water boys, timekeepers, runner's, boundary umpires, and medical staff great work, I am sure there are plenty more, but I do want to pay special mention today to a group of people that really do keep game day running – the property men/people. These people are usually the first there and the last ones to leave, they start doing things for game day days before and keep clubs changerooms ship shape, sort out jumpers and equipment and make sure everyone has what they need game day, it's a thankless task. So to Ash Wojtowicz (Boulder), Glen O'Loughlin (Kalgoorlie), Geoff Blechynden & Mark Miller (Kambalda), Frank Mitchell & Rab Faithfull (Mines) & Bradley Edwards (Railways), your clubs would be lost without you and the GFL thanks you for your contributions to keeping our season running! To our umpires who keep our game going thankyou it's been a tough year but every week you have turned up and kept our game going massive thanks to Brendan Ah-Kim and Graeme Davies for marking the lines around the ground and the helpers that help there. Anyone interested in helping with umpiring next year this would be appreciated jump on board without umpires we don't play footy. To the WAFC & WACFL, especially Gemma Harrison, Brent Sheridan & Brendon Simpson, thank you muchly for the support you give Goldfields Football, you are always there for advice and much needed support for us, as is our Zone WAFL club Subiaco FC with Kristian Dickton & Stu Berryman always keen to give the GFL and our development programs their help. The Subi Golds members are in attendance today and will present their best on ground medal along with a rep from Mr Chris Fyson to award the league Best in Ground, the Fyson Medal. Finally, I know we all must acknowledge our Operations Manager Nardia Turner who has held the ship together this year and the challenges we have faced. She has worked tirelessly putting in so many long hours, often late into the night and early mornings to make sure we play football, so thank you from everyone at the GFL.
Now onto the GF's !!
In the league minor premiers Kalgoorlie City football club take on the Boulder City football club in the league Grand final and we have said all year the competition has been that close, and this will be a tough won to pick a winner. Boulder are coming off a close First semi wins against Mines and then getting over the top of Railways last week in a game that could of went either way. Boulder coach Aaron Sweet's leaders led from the front with Mitchell Medallist Jake Nuich the dominating player on the ground and Tom Gallaway, Logan Hughes and Mathew LaFontaine influential for 4 quarters. Kalgoorlie City who come off a well-earned rest after the weekend off will be fresh and ready to go. Colin Rule who has indicated this is will be his last game of coaching will be keen to get off to good start and will no doubt have his charges ready to go from the first bounce. Alex Stuart is like a bottle of Wine and getting better with age and his contests with Nuich will be the battle of the day and sure to be a highlight. It will be worth the gate entry just to see this battle. Kyle Hams, Rhys Palmer are big game players and will be right amongst it from the start. Good luck to both sides and no doubt who ever wins this one it will be a close one.
Mines Rovers and Kalgoorlie City will clash in the Reserves decider with the last couple of games against each other been a physical encounter. Kalgoorlie after scraping in against Kambalda in last week preliminary final by 3 Points in one of the more entertaining games I have seen all year and will be out to improve on that run. Mines will be strengthened by the return of key players to their outfit and a break last week will be primed for this one. Jake Littlewood, Tom Oliver & Elliot Briers will be key players for the Diorites as will seasoned campaigners Mitch Graham and Jake Pennington with plenty of finals experience on their side. Kalgoorlie who has had a tougher run during the finals will be looking to Chad Macdonald & Mitch Sheppard to get them of to a good start. Colin Martelli who had ice running through his veins kicking the winning goal last week will be another keen to get on the scoreboard early in this one. Good luck to Jade Hinder and Russell Cowie both passionate coaches keen to get the silver wear.
The Colts should also be a great game with Kalgoorlie City & Mines Rovers to also play off against each other. Only percentage separated these two teams all season with them splitting the honours 2 apiece when they played each other in the qualifying season. Kalgoorlie had a comprehensive win in the semi-final to progress straight to the GF and Mines will be hoping to turn the tables. Both have key players with Jayden Zappelli, Macrae Akroyd, Cuba Garlett and Captain Cody Bowen leading the Roo's charge while the Diorites will have colts F & B winner Jake Douglas, regular league player Rory Murison, and probably one of the most exciting young players we have in the competition in Malakai Champion. Coaches Scott Freeman & Paul Hunter are great mentors of young men, and it is a game that the sides are full of talent and potential future league players and should be a great showcase of the future of the GFL.
This year will see the first ever GFLW Grand Final take place and looking forward to kicking this one at the start of the day with Shayne Coysh Kalgoorlie City coach looking for a great start to the day for Kalgoorlie city. Arguably the most consistent side this year they will be hard to beat. Gaylee Rauch, Tahnee Dekker and Taylor Breanna have been in good form this year and Emmett Clinch Hoycard in the ruck doing a good job. Boulder City who had a slow start to year have some real momentum in later half of the year and Coach Danny Hayes will Have his Team ready to go for this. Kate Beswick has had a outstanding year for Boulder and after been named the fairest and best at the Mitchell medal night will be ready for another big game and Miranda Rowley, Kristen Marris and Ella Gorman will be looking for big games. Should be a beauty this one kicking the day off good luck to both sides and look forward to our women's competition expanding next year to 4 sides great work by all to make this happen.
Today we also see a player play his 200th game in Rick Butterfield from Kangas. What a great achievement and to do it on the biggest day of the year, how special. Rick as actually racked up way more GFL and kangas games as he is a junior product coming right through the ranks playing in many premierships along the way including league flags in 2013 & 2019. But it's not all about premierships even though today in Grand Final Day, to have longevity like this in the football takes dedication and sacrifice and a lot of love for your club. Rick has displayed all of that and is now also putting back helping Kanga's juniors. In fact, all our milestone players this year in the GFL have displayed the very best qualities we want and need in a footballer. Congratulations Rick, you are a popular figure within the GFL community, and we applaud the milestone.
Today it's a great day for everyone at the footy, we have heaps of families here and lots to do including the bouncy castle, face painting and ice cream vans. Drinking around the ground will not be allowed and drinks will be removed so please be responsible. Please remember we will have a police presence this weekend so please use the licenced bar areas for a drink and support the clubs. Once again good luck to all the teams involved in the Grand finals this weekend thanks to all for their support this year and will see you all back for a bigger and better 2022-year cheers.
To all our sponsors for their support and to our finals sponsor Retravision, thank you because without your contribution it would be a lot harder to have football in the Goldfields.
I would also like to take this opportunity to thank all supporters that have come to the footy during the 2021 season. Crowds have been up for the whole year and great to see the support for all clubs this year. We also have Triple M Goldfields doing a live broadcast of the games so supporters not able to come can listen in. So, wherever you are watching or listening to the footy today, enjoy all it offers and have a great time.
I am so looking forward to today, but one thing is for sure FOOTY has been the winner this year and I look forward to what 2022 brings us so thanks to all.
Cheers
Graeme Borchet
Chair Goldfields Football League