Season Statistics
PPG
11.0
RPG
7.0
APG
2.7
FG%
38.6
Player Profile
Stephanie Talbot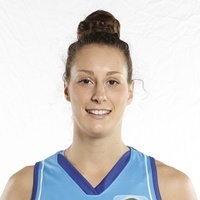 DOB: 15.06.94
Height: 186cm
Junior Club: Eastern Mavericks/ Norwood Flames (SA)
WNBL Clubs: Adelaide Lightning 2011 – 2014; University of Canberra Capitals 2014 - Current.
WNBL Championships: Nil.
Bio: The talented South Australian has wasted no time establishing herself as one of the brightest prospects in the WNBL, winning the 2013 Betty Watson WNBL Rookie of the Year award after an outstanding first full season in Adelaide.
It got better for the 19-year-old, helping the Jayco Australian Gems to a bronze medal at the 2013 FIBA Under 19 World Championships, earning All-Star Five honours.
A scholarship holder at the Basketball Australia National Centre of Excellence, Talbot earned a call-up into the Jayco Opals training camp ahead of the 2013 FIBA Oceania Championships.
Injury saw Talbot play only 15 games in 2013/14, despite the setback the young gun was picked up in the 2014 WNBA Draft by the Phoenix Mercury with selection 33.
Talbot found a new WNBL home, joining the University of Canberra Capitals.
Career Highlights: WNBL Rookie of the Year: 2013, FIBA U19 World Championships: 2013 (Bronze), FIBA U19 World Championships All-Star Five: 2013. Selection 33 of the 2014 WNBA Draft by Phoenix Mercury.
Season Statistics

FG
3PT
FT
Rebounds
M
FGM-A
FG%
3PM-A
3P%
FTM-A
FT%
TOT
AST
PTS
Season
24
95 - 246
38.6
17 - 66
25.8
58 - 74
78.4
7.0
2.7
11.0
Career
90
304 - 718
42.3
36 - 131
27.5
136 - 188
72.3
5.8
2.8
8.7
Game Log

| Date | Opposition | Min | FGM - FGA | 3PM - 3PA | FTM - FTA | OR | DR | TR | AS | ST | BL | TO | PFS | Pts |
| --- | --- | --- | --- | --- | --- | --- | --- | --- | --- | --- | --- | --- | --- | --- |
| 10 Oct | DAN | 30:38 | 8 - 15 | 1 - 2 | 5 - 5 | 2 | 5 | 7 | 3 | 2 | 0 | 2 | 4 | 22 |
| 14 Oct | SYD | 30:37 | 5 - 9 | 0 | 2 - 3 | 1 | 5 | 6 | 2 | 0 | 0 | 5 | 4 | 12 |
| 18 Oct | TSV | 27:12 | 5 - 13 | 2 - 3 | 12 - 15 | 2 | 3 | 5 | 2 | 0 | 1 | 5 | 5 | 24 |
| 22 Oct | SEQ | 29:04 | 5 - 17 | 0 - 4 | 5 - 6 | 2 | 2 | 4 | 0 | 2 | 0 | 3 | 1 | 15 |
| 24 Oct | BEN | 36:49 | 9 - 17 | 2 - 6 | 7 - 10 | 3 | 6 | 9 | 4 | 2 | 2 | 2 | 3 | 27 |
| 31 Oct | MEL | 34:17 | 3 - 9 | 0 - 3 | 0 | 3 | 9 | 12 | 2 | 0 | 1 | 8 | 3 | 6 |
| 6 Nov | SYD | 40:00 | 9 - 20 | 0 - 4 | 1 - 1 | 6 | 5 | 11 | 2 | 2 | 0 | 1 | 3 | 19 |
| 14 Nov | ADL | 37:04 | 2 - 6 | 0 - 1 | 2 - 2 | 5 | 3 | 8 | 1 | 1 | 1 | 5 | 3 | 6 |
| 22 Nov | TSV | 30:51 | 3 - 8 | 0 | 2 - 2 | 1 | 8 | 9 | 1 | 2 | 0 | 2 | 4 | 8 |
| 28 Nov | MEL | 19:05 | 4 - 10 | 1 - 3 | 3 - 4 | 2 | 5 | 7 | 1 | 1 | 0 | 9 | 4 | 12 |
| 5 Dec | SYD | 33:26 | 0 - 4 | 0 - 1 | 0 | 1 | 4 | 5 | 3 | 0 | 0 | 4 | 3 | 0 |
| 12 Dec | DAN | 35:50 | 6 - 11 | 4 - 9 | 4 - 4 | 1 | 4 | 5 | 1 | 1 | 0 | 1 | 4 | 20 |
| 13 Dec | MEL | 33:54 | 3 - 6 | 0 - 1 | 1 - 1 | 0 | 6 | 6 | 5 | 0 | 0 | 3 | 4 | 7 |
| 18 Dec | PER | 28:33 | 4 - 10 | 1 - 3 | 3 - 4 | 2 | 8 | 10 | 2 | 3 | 3 | 3 | 2 | 12 |
| 19 Dec | ADL | 35:52 | 4 - 10 | 1 - 3 | 1 - 4 | 0 | 8 | 8 | 1 | 1 | 0 | 4 | 3 | 10 |
| 2 Jan | BEN | 40:00 | 5 - 14 | 1 - 3 | 2 - 2 | 2 | 6 | 8 | 2 | 0 | 2 | 1 | 2 | 13 |
| 9 Jan | PER | 31:19 | 2 - 7 | 0 - 3 | 0 | 1 | 3 | 4 | 4 | 0 | 1 | 5 | 2 | 4 |
| 23 Jan | SEQ | 35:15 | 1 - 6 | 0 - 1 | 0 | 0 | 4 | 4 | 2 | 0 | 0 | 3 | 3 | 2 |
| 24 Jan | TSV | 38:26 | 2 - 8 | 1 - 3 | 2 - 2 | 1 | 3 | 4 | 7 | 0 | 2 | 5 | 3 | 7 |
| 31 Jan | ADL | 24:22 | 1 - 7 | 0 - 2 | 0 | 0 | 3 | 3 | 2 | 3 | 0 | 2 | 2 | 2 |
| 7 Feb | DAN | 37:08 | 1 - 6 | 0 - 4 | 0 | 1 | 3 | 4 | 3 | 2 | 3 | 6 | 3 | 2 |
| 12 Feb | PER | 38:06 | 6 - 14 | 1 - 2 | 0 | 1 | 5 | 6 | 4 | 4 | 0 | 4 | 1 | 13 |
| 14 Feb | SEQ | 38:40 | 4 - 11 | 2 - 4 | 2 - 4 | 5 | 11 | 16 | 5 | 1 | 1 | 7 | 2 | 12 |
| 20 Feb | BEN | 33:13 | 3 - 8 | 0 - 1 | 4 - 5 | 1 | 6 | 7 | 6 | 3 | 2 | 3 | 3 | 10 |
Previous Seasons

| Competition | Season | M | FGM-A | FG% | 3PM-A | 3P% | FTM-A | FT% | PFS | Pts | TOT | AST | PTS |
| --- | --- | --- | --- | --- | --- | --- | --- | --- | --- | --- | --- | --- | --- |
| 2015/16 | 2015 | 24 | 95 - 246 | 38.6 | 17 - 66 | 25.8 | 58 - 74 | 78.4 | 71 | 265 | 7.0 | 2.7 | 11.0 |
| 2014/15 | 2014 | 22 | 115 - 256 | 44.9 | 14 - 44 | 31.8 | 45 - 57 | 78.9 | 61 | 293 | 7.7 | 3.2 | 13.3 |
| 2013/14 | 2013 | 15 | 28 - 71 | 39.4 | 1 - 10 | 10.0 | 18 - 27 | 66.7 | 28 | 75 | 4.5 | 3.3 | 5.0 |
| 2012/13 | | 25 | 65 - 142 | 45.8 | 3 - 10 | 30.0 | 15 - 30 | 50.0 | 70 | 148 | 4.6 | 2.6 | 5.9 |
| 2011/12 | Summer | 4 | 1 - 3 | 33.3 | 1 - 1 | 100.0 | - - - | 0.0 | 3 | 3 | 0.0 | 0.8 | 0.8 |