Welcome 2017 Sponsors
The Ottawa Swans are thrilled to announce our 2017 sponsors and partners. Please show your support for these businesses!
Fox and Feather Pub and Grill - Sponsor Pub
Our Sponsor Pub Fox and Feather is back for the 2017 season. Whether you just want to grab a quick drink after work, enjoy a casual lunch or check out the game with your friends, The Fox & Feather Pub and Grill is the place to be on Elgin Street.
Website: http://www.foxandfeather.ca/
Facebook: https://www.facebook.com/Fox-and-Feather-Pub-and-Grill-510520259093567/
Pro-tip: ANYTIME you visit Fox and Feather, simply mention the Ottawa Swans to help support the club!
Lorne Scott Royal Lepage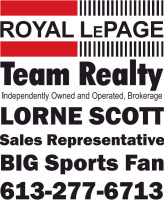 Long time sponsor Lorne Scott from Royal Lepage Team Realty has again provided his generous support for the Swans. Contact Lorne for information and assistance with all real estate needs, he is happy to help you buy or sell your home.
Website: http://www.royallepage.ca/en/agent/ontario/ottawa/lorne-scott/33591/
Visit the website for contact information.
OC3 Ottawa Collaborative Care - Official Health Partner
We're excited to announce our new sponsor OC3 Collaborative Care. OC3 is a health care team consisting of Chiropractors, Physiotherapists, Registered Massage Therapists, Naturopaths, Family Physicians, Yoga Teachers, and Pilates Instructors. We focus on healing both acute and chronic musculoskeletal issues, as well as on the prevention of recurrent injuries and the promotion of overall health.
Website: http://www.oc3.ca/
Facebook: https://www.facebook.com/OC3Ottawa/
Pro-tip: OC3 is the official Health Partner of the Ottawa Swans. Simply mention the Swans when booking an appointment or consultation to help support the club. Players and supporters are welcome!
Manotick Messenger - Official Media Partner
We're thrilled to welcome the Manotick Messenger as the official media partner of the Ottawa Swans. As part of our drive to integrating further with the Manotick Community, we are excited to work closely with the Messenger. The Manotick Messenger is a controlled-distribution bi-monthly community newspaper serving the Community of Manotick. It is published the second and fourth Friday each month.
Read the Manotick Messenger: http://www.manotickmessenger.on.ca/index.html
Facebook: https://www.facebook.com/Manotick-Messenger-267448403344583/
Manotick Polo Club
The Home Ground of the Ottawa Swans is the Manotick Polo Club! Just outside of Ottawa near Manotick, you arrivee at a picturesque setting to enjoy the horses, enjoy the people, and have some fun.
Website: http://manotickpolo.com/
Facebook: https://www.facebook.com/ottawa.manotick.polo/
Want to become a sponsor?
We have sponsorship packages available for all types of businesses. With a passionate group of players and supporters, a large online presence through Facebook, Twitter, and email, and a great location for home games right near Manotick, we can provide your business with a great partnership. Learn more by downloading our sponsorship package here, or contact swanscomm@gmail.com for more information.
Last Modified on 07/05/2017 04:15