Home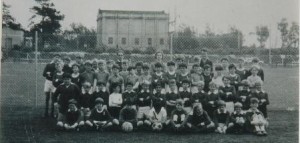 Welcome to Seaford United Soccer Club,
the home of the Mighty Tigers. Located in the City of Frankston and calling the 6.4 hectares of Seaford North Reserve our home ground we are proud to support players of all ages and abilities from age 5 and up. Founded in 1969 and starting life as Frankston City Soccer Club, we now don the colours of yellow and black and have teams playing in both the Football Victoria (FV) and Bayside Football Association's (BFA) competitions.
Playing through from March to end of September sees matches on weekends and the odd midweek game for the FV Senior and Bayside teams. We offer spots for sub-junior boys and girls, junior boys and junior girls, FV senior men's and women's teams and Bayside Football Association players.
This long-standing club is supported by over 600 Players, coaches, managers and members and is fully run by volunteers, including its sitting committee. Our clubrooms are made up of 5 changing rooms, both male and female, large social area for club events and members' functions, a canteen servery, social bar and supported members and guest facilities.
The reserve boasts three full size parks, two three quarter parks, two half size parks and two quarter parks, there are also council facilities with a playground, skatepark and BBQ area at the far end of the reserve. With easy access to our club by public transport (We are only 300m from Seaford railway station) or via major roads; Eastlink or Nepean Hwy, with ample parking provided off street.
With everything on offer the club strives to be a great entry level club for newcomers and a welcoming family-based community club within the hidden gem that is Seaford. So, if you are new to the area or are a long time local and are looking at taking-up soccer then we are the club for you.
Follow us on our other social media platform Facebook: www:facebook.com/seafordunited to keep up to date with what's happening around our club. Further details can be found on this page, so explore to find out more information or contact us today.
One Club. One Passion. One Roar. We are Seaford United!