Home Page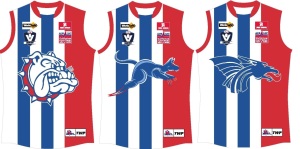 Welcome to the Official Web Site of the East Point Football Netball Club.
The East Point Kangaroos,Bulldogs and Dragons are into our 17th season since the formation year in 2001 when the official amalgamation of the East Ballarat and Golden Point Football Clubs took place, we are a young vibrant football and netball club who are well entrenched in the City of Ballarat with our Home Grounds being the historic High Mountain Eastern Oval situated in Peel Street North.Russell Square Recreation Oval, corner of Scots Parade & Stawell Street Brown Hill and White flat Oval, Hickman Street Golden Point.
The club offers men, women, girls,boys and families an opportunity to play in a well-structured football and netball competition through our affiliation with the Ballarat Football League, we offer excellent training and playing facilities and are a well-run family club that enjoys social activities and major social events throughout the year.
The recent success that the club has had can be attributed to the hard work by so many people who have either served on the clubs committee or volunteered their time to make the clubs what it is today, the clubs has been well served by many loyal footballers and netballers over the over the years as well as enjoying fantastic support with many long term Valued Sponsors.
Our aim is to provide the best possible facilities and amenities for the members, players, friends and families in our sporting organisation as well as providing a safe & secure environment to enjoy the social activities of the club, the East Point FNC is committed to improving on all areas of the club that will see this club become strong and viable for years to come.
If you would like to find out more details or would like to become part of this great group please make contact via this web site and information will be provided on how you can join and be made a most welcome addition of the East Point Commuity.
EVERY HEART BEATS TRUE...