Welcome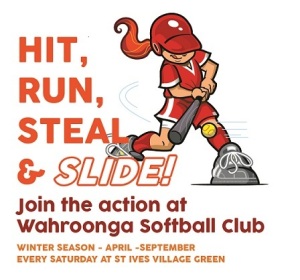 IMPORTANT UPDATE 2021 – Softball Games Resume 24 April 2021
Please visit our new website https://www.revolutionise.com.au/wahroongasoftball/home/
Welcome to Wahroonga Softball Club! Girls aged 4 to 65, and Boys aged 4-10 are welcome to join in the fun of Saturday Winter softball. Games are played from April to September at St Ives Village Green.
Our club aims to provide the opportunity for all players to enjoy their softball at the level appropriate to their age, skill and experience.
A little about our Club…
In 2020 we fielded 15 teams; with players ranging from 4-year old Teeball players right up to A Grade players; some of whom are current members of Australian and New South Wales representative teams, including Olympians due to play at the Tokyo Olympic Games.
We are a family club which is shown by the number of second and third generation girls who now play and the support of family and friends on the sidelines each week. Our club is operated by an active committee and assisted in many ways by its members and friends.
We are keen to welcome new players of all ages, whether or not you have played before. Please contact us at info@wahroongasoftball.org.au if you would like further information, or if you would like to register your interest for the 2021 season.