Home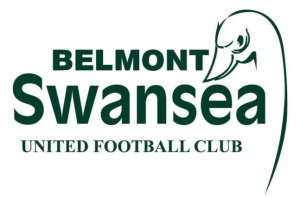 Belmont Swansea United Football Club
(Est. 1935)
"Proudly celebrating over 80 years of Football"
---
*** 2018 Season Launch ***
Belmont Swansea United FC Season Launch will take place on Friday, 2nd March at Pelican RSL.
Please note the following times........
Youth teams from 5:00pm.
Senior Teams from 6:30pm.
This is a compulsory attendance for all players!

Parents and supporters are welcome.

Introduction of our wonderful 2018 sponsors.

Come along and meet the players, coaches and team management.

Players get your 2018 kit.

Possible guest appearances.
---
2018 Youth Trials
All 2018 youth teams have been selected - go to the "2018 Youth Teams" page for player lists.
*****Update*****
Belmont Swansea United FC is currently seeking suitable players for our Under 15 Youth Team for 2018.
An additional trial date has been scheduled for the Under 15 Youth Team for Tuesday, 10th October 2017 at 5:30pm Blacksmiths Oval.
All players should register an expression of interest prior to the trial dates via the following link:
https://docs.google.com/forms/d/e/1FAIpQLSco26TDQzl_uQDBD7CA-td9MwYjUiqv-QM9wu6d0tRaUwGc1w/viewform
**** All other player enquires for 2018 season should be directed to Club Head Coach - Josh Rufo mob: 0448 034 955.
---
2018 Preseason Training Schedule
Preseason training kicks off on Tuesday, 9th January at Belswans Junior Grounds.
*** Any players wishing to trial for U/23's and 1st. Grade should contact Head Coach - Josh Rufo on (0448 034955) ***
---
---
2017 Presentation Night
Friday, 22nd September 2017
6:30pm at Belmont Bowling Club
$20.00 per head (includes meal, awards presentaation etc). Players free of charge.
Raffles and much more... join us for a great celebration of 2017.
---
---
2017 Annual Geaneral Meeting
Sunday, 24th September 2017
2:00pm at Pelican RSL Club
Come along and help push the club to greater heights in 2018 and beyond.
---
Belswans Football Club Coaching Announcement 2018
Belmont Swansea United Football Club is pleased to announce the reappointment of former NSL player Joshua Rufo as head coach of the football club for the 2017 season.
This is fantastic news as Belswans has had a very successful 2017 season with Josh at the helm in his first year. Josh will be supported by his brother Dan and Michael Stafford who again be in supportive, assistant coaching positions at the club.This brings further stability to our club as we continue to push towards achieving the desired criteria for NPL status.
---