HOME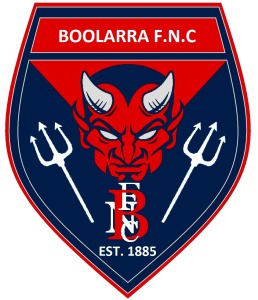 WELCOME TO THE BOOLARRA DEMONS FOOTBALL NETBALL CLUB OFFICIAL WEBSITE
"OMNEM AD OMNES"
- Est 1885, MGFL Founding Club 1935 -
The Boolarra Football Netball Club welcomes everybody to Season 2021 of the Mid Gippsland Football Netball League. We wish everyone a successful season with lots of fun and enjoyment. We would like to welcome all new players, sponsors, members and supporters to our club and hope they enjoy their time with us. Boolarra Football Netball Club would also love to get new members of the community and surrounding areas involved, so come along and support our great family club.

During the off season the club re-appointed Tony Giardina, 2011 Premiership coach, as the Senior Coach. Tony brings a wealth of football knowledge, experience and a commitment to the club and after a tough year on-field in 2019 Tony is expecting big improvements in 2021.
With the support of James Holmes, Brendan Mason (Senior Assistant Coaches) and Michael Cleaver (Reserves Coach) the club has a coaching panel that caters for all player standards and development needs.
Our dedicated and enthusiastic Committee is steering the club toward a 2021 season which is successful, both on and off field. We look forward to your involvement and participation in assisting in our new era.
Please feel free to contact Simon Buglisi (President) on 0411 142 375 or email bfncdemons@bigpond.com to be part of our journey.
All the best to all coaches and players in 2021. Go Dees!