Home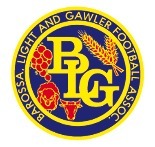 BAROSSA LIGHT & GAWLER
FOOTBALL ASSOCIATION

WELCOME TO THE 2021 SEASON
Fixtures and Results still available on this page.
Going forward this website will only be updated with basic
information - please refer to our new website BLGFA.COM.AU
Link to our new website below - check it out now!
Links to livestream game of the week and videos replays of all A Grade games can be found on the new website.
Barossa Light & Gawler Football Association – (blgfa.com.au)