Home
2009 Pacific Mini Games end with a bang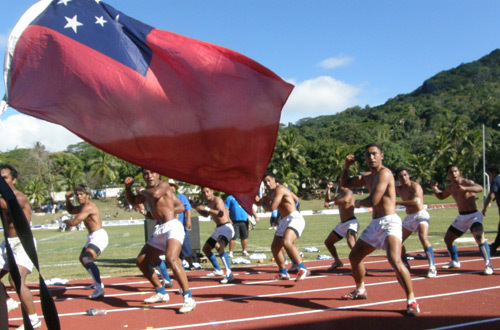 Proud Samoans perform their haka after winning the last gold medal in the 2009 Pacific Mini Games
After twelve days of competition between 21 countries in fifteen codes, the 2009 Pacific Mini Games have ended.
Four hundred and fifteen medals have been awarded, 144 of them gold, with the last of these going to Samoa.
The Samoan rugby sevens team came out firing in the gold medal match and Fiji didn't know what hit them. At half time the Samoans had scored 26 unanswered points and Fiji were shell-shocked. They mad a better effort in the second half but it was too little too late.
The Samoans said earlier that they were playing for a country in pain. They put in a brilliant performance - now they will head home to family, friends and their devastated homeland.
After the medal presentation came the games closing ceremony. Athletes marched onto the field for the last time and settled down to enjoy the colourful entertainment provided by some of the Cook Islands' top cultural groups. The flag was lowered and handed over to Wallis and Futuna, hosts of the next mini games, the flame was extinguished and then the event ended with a bang as a firework display provided a spectacular finale to two weeks of sport.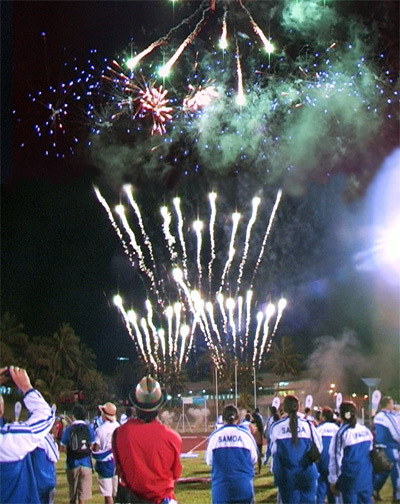 A dazzling fireworks display brought the games to a stunning end
Highlights from the PMG Closing Ceremony

The games have come to an end. See you all in New Caledonia (2011) for the next Pacific Games and Wallis and Futuna (2013) for the next Pacific Mini Games.