New Players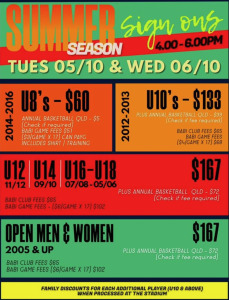 Looking for a Sport that improves hand eye coordintation, promotes physical activity, teamwork and persistance. Basketball provides all these skills and much more importantly it is fun. If your children are interested in playing, please contact our Junior Coordinator, Belinda Tinus via email - juniors@burdekinbasketball.com. We have programs for children aged 5 to 7 years, 8 through to 16/18 years and adults.
We run Two seasons per year. The first runs during Summer, from October to April, during School Terms Four and One. Our second season runs during Winter, from April to September, during School Terms Two and Three. Juniors do not play during School holidays or on Public Holidays. Seniors may play during School holidays.
2020/2021 Games Schedule
Juniors
Tuesday Afternoons
Mixed U16/18's (Born 2007 - 2004) - 6.30 - 8.30pm
Wednesday afternoon
Cubs Development - U8's (Born 2014 - 2016) - 3.30 - 4pm
Mixed U10's (Born 2012 - 2013) - 4pm - 5pm
Mixed U12's (Born 2011 - 2010) - 5pm - 6.30pm
Mixed U14's (2009 - 2008) - 6.30pm - 8pm
NB: Times may vary slightly due to seasonal changes and the number of registered players.
Seniors Monday nights
We offer a Men's and Women's competition. Game times depends on the number of registered teams, however games are scheduled from 6.30pm. If you wish to play in our Senior competition - contact Craig Mathews - 0424 572 349
All Player registrations can be completed online - see Home & News page Wildcats Registration icon on right hand side partway down the page.
Fees can be paid on line or via Eftpos at the Stadium.
We are a recognised Fairplay Voucher Sporting Facility and accept Fairplay Vouchers as payment towards Registration Fees.
We offer payment plans only on enquiry - contact Kaylene via email - K.rinella@bigpond.com.
We offer Family Discounts of $10/child for two or more registered players in U10's and above. This discount is only available when paying via eftpos at the Stadium.
#NB# Basketball Queensland fees are paid yearly not each season.