Primary Schools Cup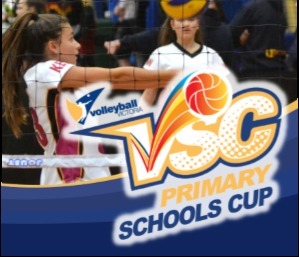 Volleyball Victoria Primary Schools Cup (VVPSC)
The Volleyball Victoria Primary Schools Cup (VVPSC) will be held in conjunction with School Sport Victoria's State Volleyball Finals. The event will include various divisions and age groups to cater to schools that are either new to the sport or have some experience with the sport (including through SSV, Sporting Schools, Spikezone, etc.). The VVPSC will also provide additional playing opportunities for schools that have previously been eliminated from the SSV competition.

The VVPSC is a great way to get students out of the classroom and into a fun, active, and social environment. Volleyball allows kids to play sport as part of a team, with all players actively involved in the game (everyone is included!) and is a great way for kids to test their skills against other schools.

The VVPSC offers competitions for Years 3-4 and Years 5-6 in each gender.

Volleyball Victoria invites and welcomes all Victorian Primary Schools to the Primary Schools Cup and looks forward to an exciting future in partnership with School Sport Victoria.
---
2021 Tournament
LOCATION:
State Volleyball Centre, Dandenong Stadium
270 Stud Rd, Dandenong North
DATE:
Friday 19 November - Years 3-6
TEAM ENTRY:
$99 per team or $88 per team for any school that has booked or completed a volleyball sporting schools program in 2021. All team entries also include stadium entry
ONLINE TEAM ENTRY:
TEAM ENTRIES ARE OPEN NOW!
Team entries will close Friday 5 November
DIVISIONS:
Years 3-4 Boys
Years 3-4 Girls
Years 5-6 Boys
Years 5-6 Girls
TOURNAMENT LINKS:
Tournament Information & Modified Rules
Please direct any event enquiries to Timothy Heathcote at tim.heathcote@volleyballvictoria.org.au
---
Results Archive
Follow the link below for past event results:
- 2019 Tournament Results
- 2018 Tournament Results
- 2017 Tournament Results
- 2016 Tournament Results