VV Junior Open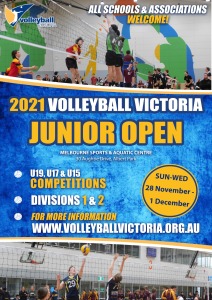 Volleyball Victoria are very pleased to announce in 2021 we will again be hosting the Volleyball Victoria Junior Open (VVJO)!
The VVJO has been developed as a participation event in response to the demands of schools and associations who are seeking a major event experience to conclude their annual volleyball programs. This annual event will include various divisions and age groups to cater to all schools and associations. Volleyball Victoria is also developing new competition and award initiatives that will make this a unique event not to be missed!
TOURNAMENT REGULATIONS
TEAM ENTRIES WILL OPEN IN SEPTEMBER AND CLOSE FRIDAY 22 OCTOBER
Location:
Melbourne Sports & Aquatic Centre
30 Aughtie Drive, Albert Park, 3206
Dates:
Sunday 28 November – Wednesday 1 December
Team Entry:
$TBA - Team Entries close Friday 22 October
Divisions on offer:
U19 Boys and & Girls Division 1 & 2
U17 Boys and & Girls Division 1 & 2
U15 Boys and & Girls Division 1 & 2
U19 Mixed
U17 Mixed
U15 Mixed
Player Registration:
It is a condition of participation that all participants are registered members of Volleyball Victoria. The minimum registration level required is the Social Membership ($44.00).
If a player is already registered at any higher level membership (ie they play in another competition requiring membership such as State League), that membership will also cover them for this event.
Please note that any players planning to participate in the Australian Volleyball Schools Cup in December will require a Full U19 Membership ($70.00). Player registration can be upgraded at any time online or via the VV office.
If you have any questions please contact Timothy Heathcote at events@volleyballvictoria.org.au or on 9794 0009