January Holiday Basketball Camps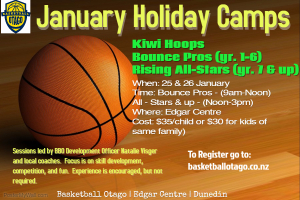 Are you ready for the kids to go back to school? How about you drop them off at the Edgar Centre for a few hours on the 25-26 of January and we will give them back to you knackered.
Bounce Pros Camp is for children in years 1-6 at school (2018 calendar). The camp starts at 9am and finishes at Noon. We will focus on skills, games-based learning and fun.
Rising All - Stars Camp is for children entering years 7 and up at school. The camp starts at Noon and finishes at 3pm. The focus will be similar, but with more of a practice environment (higher intensity level).
The cost is $35 per child, with a $5 discount for siblings.
If you have questions please email the development officer (Natalie) at development@basketballotago.co.nz or call 03 456 4063 M-F from 9am-5pm.
REGISTER ONLINE BY CLICKING ON THIS LINK