Junior Tournament
Wangaratta Junior Tournament 2019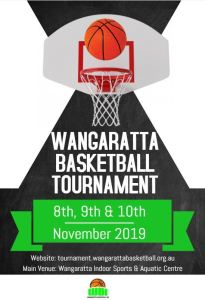 2019 Wangaratta Junior Basketball Tournament
Friday 8th, Saturday 9th & Sunday 10th November 2019
*** Tournament Entries NOW CLOSED - FULL ***
For all tournament information please refer to the Tournament website: CLICK HERE
Main venue: YMCA - Wangaratta Sports & Aquatic Centre, Schilling Drive, WANGARATTA VIC 3677.
* Please note this tournament will use multiple venues throughout the Wangaratta and Benalla areas
*** Special Note - All U14 games (except GF's and Friday night games) will be played in Benalla. ***

Fixtures, results and ladders will be published on the tournament website: tournament.wangarattabasketball.org.au
* Where possible some matches will be played on Friday evening after 5:30pm in Wangaratta.


Early Bird entries until 25th October: $400 per team
$450 per team if entered after 25th October
Entries close 1st November 2019 - NO LATE ENTRIES WILL BE ACCEPTED


Scott Draper
Tournament Director
m: 0429 179 856
Adam Maher
Referee Coordinator
m: 0439 896 719