MSBL Inclusive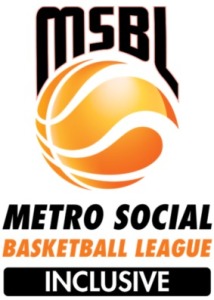 T

he MSBL Inclusive is a basketball competition that provides playing opportunities for players with an intellectual disability or integration difficulty.
The Wayville Sports Centre has over 15 years of history with its "J" Grade competition and

offers a program that caters for the beginner through to veterans of the sport.
With a wide range of abilities we need to ensure that all of our members are constantly challenged and supported according to their different needs, therefore you will be placed in a particular team to provide a balanced competition. The MSBL Inclusive helps promote

l

eadership skills,

personal basketball skills development

and i

s a great opportunity to socialise with friends and be a part of a team.
Who is the MSBL Inclusive Program for?
* Males and females

* Open age (over 13 years old)

* Beginners or more advanced / experienced players

* People with an Intellectual or Physical Disability

* People with Learning and Integration difficulties

* People who have Special Needs
What days and times are the IBP games held?
* Games are held at 6.50pm Thursday evenings on two courts concurrently. The season runs in sync with schedules for other social competitions held at Wayville.
* To participate in the MSBL Inclusive please download, print and fill out relevent information on the IBP Medical & Registration Form found at the bottom of this page.
For further information on all things MSBL Inclusive please contact Eliza on 0414 776 115 or email to ewooden@basketballsa.com.au