Season Statistics
PPG


RPG


APG
4.2
FG%

Player Profile
Chelsea Aubry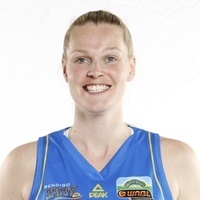 DOB: 27.06.84
Height: 188cm
Junior Club: Grand River Collegiate Institute (Canada)
WNBL Clubs: Bendigo Spirit 2009 – Current.
WNBL Championships: (2) Bendigo Spirit 2013, 2014.
Bio: Since first arriving in Bendigo in 2009, Aubry has become a staple in Bernie Harrower's team, notching up 121 consecutive games, playing a leading role in the Spirit's back-to-back WNBL Championships.
The Canadian has fit seamlessly into the Bendigo program, adapting her game to fit the teammates around her.
Aubry played a major role in the team's two championship runs, coming up big in the post-season, providing interior defensive presence and three-point shooting that has become a staple in Central Victoria over the past five years.
Career Highlights: Olympic Games: 2012, FIBA World Championships: 2006, 2010.
Season Statistics

2PT
3PT
FT
Rebounds
M
MIN
2PM-A
1st Half H.S
3PM-A
3PT
%
FTM-A
FT %
TOT
AST
PTS
Season
26
13/01/2013
49 - 111
44.1
24 - 53
19
- - Logan
4.2
Career
145
30/01/2010
- - -
0.0
156 - 391
126
- - -
4.0
Previous Seasons

Competition
Season
M
MIN
2PM-A
1st Half H.S
3PM-A
3PT
%
FTM-A
FT %
PF
Total Pts
TOT
AST
PTS
2014/15
2014
24
30/10/2014
26 - 64
40.6
7 - 45
6
- - Dandenong
85.7
1.9
2013/14
2013
26
01/02/2014
38 - 73
52.1
15 - 80
13
- - Sydney Uni
86.7
3.8
2012/13
26
13/01/2013
49 - 111
44.1
24 - 53
19
- - Logan
79.2
4.2
2011/12
Summer
22
22/10/2011
40 - 78
51.3
30 - 36
26
- - West Coast
86.7
4.0
2010/11
Summer
24
12/12/2010
- - -
0.0
24 - 89
18
- - Adelaide
75.0
5.5
2009/10
Summer
23
30/01/2010
- - -
0.0
56 - 88
44
- - Bulleen
78.6
4.3