Latest News
PREMIERSHIP REUNION LUNCH
* * * * * * * * * * * * * * * * * * * * * * * * * * * * * * * * * * * * * * * * * * * * * * * * * * * * * * * *
Saturday August 15th
Turner Road Reserve, Highett
Guest Speaker - Anthony Daniher
(Part of the proceeds from the lunch will be donated to assist research into Motor Neurone Disease)
For catering purposes, final bookings are now required.
RSVP and further details - Stephen Grey 0438 061 255
vvvvvvvvvvvvvvvvvvvvvvvvvvvvvvvvvvvvvvvvvvvvvvvvvvvvvvv
OMFC ANNUAL BALL
SATURDAY JULY 4 @ 7.30PM
SANDY BY THE BAY, BEACH ROAD, SANDRINGHAM

Dress Code: Dress to impress. Suits for the gents and dresses for the ladies.
Tickets are $90 for a single or $170 for a couple.

Drinks, canapés and dinner is included in the ticket price as well as a live DJ to play all night.

Tickets can be purchased at the club or by contacting Ben Parker on 0466 568 648 or benparker@live.com.au
vvvvvvvvvvvvvvvvvvvvvvvvvvvvvvvvvvvvvvvvvvvvvvvvvvvvvvv
PAST PANTHERS CATCH UP
Stephen Grey recently caught up with Club legend PETER INGRAM in Cairns, where Peter now lives.
According to Chook "It was a bit warm in FNQ (about 35 degrees) and in those conditions it is necessary to keep the fluid levels up. Ever the team player Peter was only to willing to assist".
The good news for all at Pantherland is that Peter, Life Member and former Captain, Coach and
B & F winner, will be in Melbourne in July / August and is looking forward to watching the boys in action.
Home Game Luncheons
After a well attended Season Opening luncheon held last week, the Old Mentonian Seniors posted a brilliant hard fought Round 1 victory against Bulleen-Templestowe.
We will be having two more luncheons this year. On June 20 (Round 10 v NOBS / St Pats) we will be holding a reunion of the 1985 Reserves and 1990 Senior Premiership teams.
And at our last home game on August 15 (Round 17 v Whitefriars) we will be holding another Gala Luncheon.
Details will be posted here closer to those dates.
Patrons and Number One Members
At the Club's lunch prior to the first game, we proudly announced the Club's patrons and joint holders of the Number One Membership ticket.
Simon Appel and Mal Cater, respectively the Chairman of the Board of management and the Principal of Mentone Grammar are our patrons for 2015.
Both have a long association with the Panthers. Simon's three sons played for the Club, he is our longest serving President and is a Life Member. Mal is a past player and former coach of our Reserves.
Joint holders of the Number One Membership ticket are Tim Appel and Fred Macquire.
Tim is a past player and has maintained his enthusiasm being one of our more devoted, loyal (and vocal) supporters.
Fred is a member of one of our Club's great family and is no stranger to being our Number One Member, having held this honour for several years. We have recognised his passion for the Club by presenting him with our award for the Club's Most Valued supporter.
The Panthers are proud and honoured to have four such loyal and passionate men as the leaders of our supporters.
Mitch Brown signs with the Panthers
The Panthers are excited to announce that Mitch Brown has listed the Old Mentonians Football Club as his home club for 2015. Mitch played for Geelong in the AFL and recently starred as a top-up player for Essendon during the NAB Cup.
While we don't expect to see much of him due to VFL commitments, it is a good boost for the club. Good luck to both Mitch and his brother Darcy at the Zebras in 2015.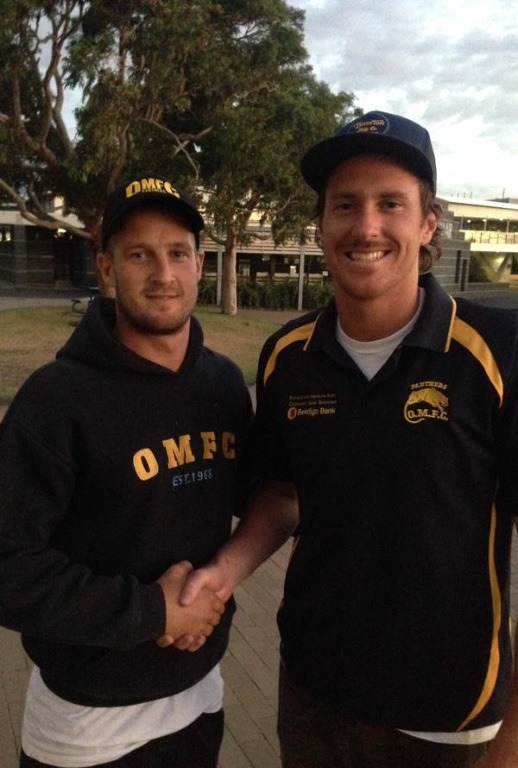 Panther's are recruiting
The Panthers are seeking players of all ability and fitness to come down and play for the club in 2015. We are a club with great facilities and great coaching and medical staff. Having just missed out on the finals in 2015, we have a young vibrant list who are excited to take the next step in 2015.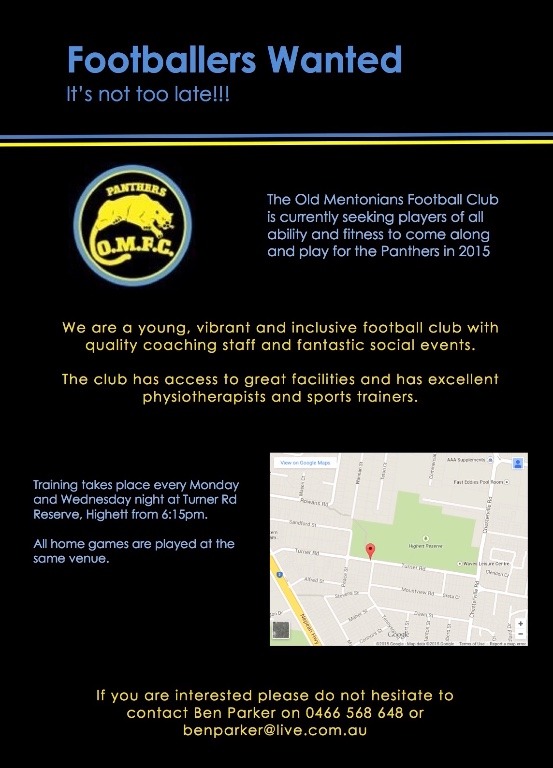 Season Launch
The 2015 season launch is taking place on Thursday April 9 at the Mentone Grammar Function Centre.
Take the chance to meet the coaches and committee for 2015, witness the jumper presentation to all new Panthers and purchase all your 2015 Panther merchandise.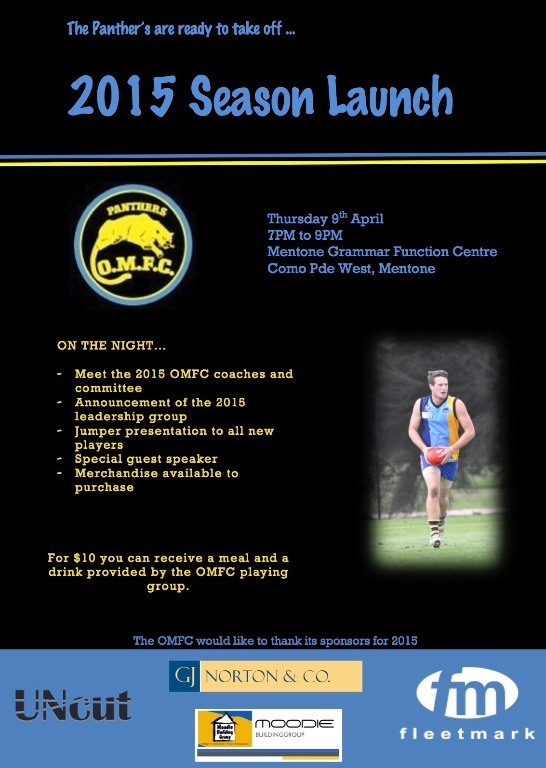 Social Calendar
The 2015 Social Calendar is out!
Make sure you pencil all the below dates in your diary for what promises to be an exciting 2015!!!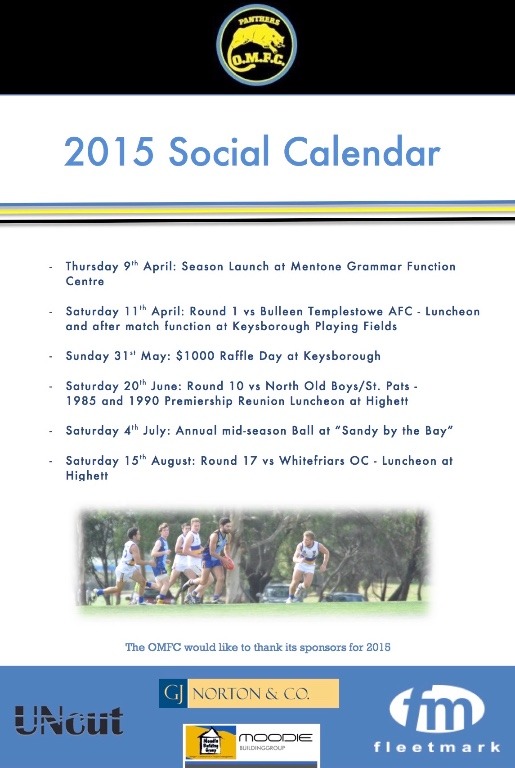 Pre-Season Camp
The Panthers had a great pre-season camp down at Shoreham last weekend. Players worked extremely hard in difficult conditions preparing themselves for the season ahead.
The group was tested both physically and mentally throughout the weekend, undergoing gruelling conditioning and running programs.
Thanks to all involved who helped organise the camp!!!