Australian Recruitment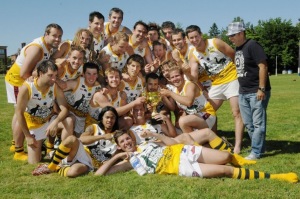 Come play footy in Southern Ontario!
Travel, party, work & play footy on the other side of the world in Southern Ontario, Canada! Guelph is located 45 mins west of Toronto (Ontario's capital city) and is an action packed university town with a great party life. Guelph itself has a population of around 110,000, but when uni is in it increases by +30,000 people. The city is close to Kitchener/Waterloo which also has 2 universities and a population of 350,000. Both cities offer great ratios and unreal night life. In Guelph/KW (Kitchener/waterloo) you're only 2 hrs away from either Niagara Falls, one of the wonders of the world, or a getaway to the United States. You are also only a drive away from incredible cities like New York, Washington, Detroit, Chicago, Montreal and Ottawa. If the US isn't your thing, there are cheap, all inclusive travel deals to destinations such as the Caribbean, Mexico, or Cuba; deals, including 7 nights in a hotel, flights, and food, can go for as low as $600!
The Gargoyles are a tight knit group of Australians and Canadians; the social aspect of the club is a priority and welcomes you as part of the extended family. Not only would you get to have a great time playing some footy in a foreign country, you can get the opportunity to represent your country in the annual "Aussie All-stars v Team Canada" game once a year. The OAFL also organizes trips to destinations such as Boston, Chicago, and Philly where a group of aussies and canadians go represent the OAFL against AFL teams from the US. Each year Guelph also gets to play in the biggest roster match of year on Canada day in the nation's capital (Ottawa) against the Ottawa Swans. Think aussie day but playing footy and partying afterwards in the biggest Canada Day party in the country! The team also organizes one major footy trip a year - previous trips have included ski/snowboarding trips at Blue Mountain, and a trip to watch US College football and party with over 100 000 other fans!
Visas, work & accommodation
Visa's are easy to obtain: you can get a 2 year working holiday visa at http://www.whpcanada.org.au/introduction.shtml and renew it as many times as you like until you turn 31.
Getting work is also something the team can help you with; all of our aussies have gotten jobs straight away. We have 50 plus guys at the club who are all willing to help guys get jobs in all areas. Same goes for living accommodations; we currently have guys on the team living together and there is always a room or someone knowing of a place to stay.
For any further info on coming to Guelph/KW please contact the club: grandriverafc@gmail.com