Season Statistics
PPG


RPG


APG
3.5
FG%

Player Profile
Sally Potocki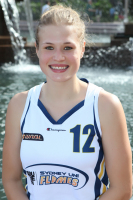 PERSONAL:
DOB 11/02/1989, Height: 178cm
POSITION: Guard
JUNIOR ASSOCIATION: Sydney Comets
FIRST PLAYED WNBL:
2007/08
WNBL CLUBS:
Sydney 2007/08 - Current
INTERNATIONAL GAMES: 7 (Senior) – 2009 World University Games (Bronze)
INTERESTING FACTS: Sally has played in the Australian Junior and Senior Team for European Handball. She is known as the 'Human Wrecking Ball" Potocki!
WNBL CAREER NOTES:
In the 2009/10 season, Sally averaged 2.9 points, 2.1 rebounds and 0.5 assists per game in the regular season. Sally also took the court in the finals, averaging 2 points and 1.5 rebounds per game. Sally was elevated into the Flames starting line-up for a few games in the second half of the 2008/09 season. Averaging 31 minutes Sally played in all 22 games of 2008/09, posting 11 points and 6.6 rebounds per game. In her debut season in 2007/08 Sally played in 4 games and scored 6 points for the season.
GENERAL BASKETBALL CAREER NOTES:
Sally has represented NSW State U16 (2004), U18 (2005 & 2006) and was selected in the 2008 U20 State team but could not play due to WNBL Flames commitments. She also represented NSW All Schools in 2005 & 2006 and plays ABA for Manly. In 2009 Sally represented Australia at the World University Games in Serbia winning a bronze medal. Sally played with the Manly Warringah Sea Eagles in the 2010 NSW Waratah ABL.
PERSONAL INFORMATION:
Sally's favourite TV show is The Simpsons & Master chef. her favourite movie is The Notebook and she loves home-cooked food! Sally loves spending her weekend going out with friends and sleeping in when she can. Sally has represented NSW and played in the Australian Junior Team for European Handball. She likes walks on the beach and has a nephew named Axel. Sally is in her last year, studying Hotel Management.
COACH'S COMMENT: Sally enters her third season with the Sydney Uni Flames. Sally's tenacity and strength will again play an important role in the success of the Flames. Sally has worked hard in the off-season, further developing her game, which should see Sally have a an outstanding season.
Season Statistics

2PT
3PT
FT
Rebounds
M
MIN
2PM-A
1st Half H.S
3PM-A
3PT
%
FTM-A
FT %
TOT
AST
PTS
Season
22
15/10/2010
- - -
0.0
46 - 3
34
- - Canberra
3.5
Career
71
24/01/2009
- - -
0.0
172 - 17
131
- - -
3.9
Previous Seasons

Competition
Season
M
MIN
2PM-A
1st Half H.S
3PM-A
3PT
%
FTM-A
FT %
PF
Total Pts
TOT
AST
PTS
2010/11
Summer
22
15/10/2010
- - -
0.0
46 - 3
34
- - Canberra
73.9
3.5
2009/10
Summer
23
02/12/2009
- - -
0.0
25 - 3
18
- - AIS
72.0
2.0
2008/09
Summer
22
24/01/2009
- - -
0.0
96 - 11
77
- - West Coast
80.2
6.6
2007/08
Summer
4
09/02/2008
- - -
0.0
5 - -
2
- - West Coast
40.0
1.5