Season Statistics
PPG


RPG


APG
4.1
FG%

Player Profile
Kristi Harrower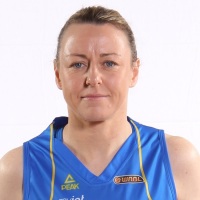 DOB: 04.03.75
Height: 163cm
Junior Club: Bendigo (VIC)
WNBL Clubs: Melbourne Tigers 1991; AIS 1992 – 1993; Adelaide Lightning 1994; Melbourne Tigers 1995 –2000; Bendigo Spirit 2008 – Current.
WNBL Championships: (2) Adelaide Lightning 1994; Bendigo Spirit 2013.
Bio: A living legend of Australian basketball, Harrower achieved success wherever her amazing 20-plus year career has taken her. Emerging as a 16-year-old with the Melbourne Tigers, Harrower was quickly snapped up by the AIS and after two seasons in Canberra the guard moved to Adelaide, helping the Lightning win the 1994 WNBL title.
Harrower re-joined the Tigers in 1995 where she would become one of the premier point guards in the competition, earning four-straight WNBL All-Star Five honours between 1997 and 2000. A move to the WNBA and Europe followed before returning to her hometown Bendigo Spirit in 2008.
The four-time Olympian for the Jayco Opals would go on to win her first WNBL Most Valuable Player award in 2010 and make Bendigo a regular in the WNBL post-season.
Here she would guide the Spirit to their first WNBL Championship in the 2012/13 season, producing a memorable season where she would be an All-Star Five winner for the seventh time in her career.
Harrower has been equally as dominant on the international stage, winning four Olympic medals to go with her 2006 FIBA World Championship gold medal.
Career Highlights: Olympic Games: 2000 (Silver), 2004 (Silver), 2008 (Silver), 2012 (Bronze), FIBA World Championships: 1998 (Bronze), 2002 (Bronze), 2006 (Gold), 2010, FIBA Young Women World Championships: 1993 (Gold), WNBL MVP: 2010, WNBL All-Star Five: 1997, 1998, 1999, 2000, 2009, 2010, 2013, WNBL Defensive Player of the Year: 2013.
Season Statistics

2PT
3PT
FT
Rebounds
M
MIN
2PM-A
1st Half H.S
3PM-A
3PT
%
FTM-A
FT %
TOT
AST
PTS
Season
25
30/11/2013
58 - 148
39.2
58 - 73
45
- - Adelaide
4.1
Career
329
07/02/2010
- - -
0.0
1046 - 1437
767
- - -
4.4
Previous Seasons

Competition
Season
M
MIN
2PM-A
1st Half H.S
3PM-A
3PT
%
FTM-A
FT %
PF
Total Pts
TOT
AST
PTS
2014/15
2014
10
25/10/2014
3 - 15
20.0
10 - 9
8
- - UC Capitals
80.0
1.7
2013/14
2013
25
30/11/2013
58 - 148
39.2
58 - 73
45
- - Adelaide
77.6
4.1
1994
1994
20
28/05/1994
35 - 70
50.0
49 - 51
32
- - Dandenong
65.3
3.1
1993
1993
18
14/08/1993
50 - 118
42.4
46 - 70
25
- - West Coast
54.3
4.1
1992
1992
20
22/08/1992
35 - 88
39.8
34 - 73
17
- - Canberra
50.0
3.6
1991
1991
12
10/05/1991
3 - 9
33.3
6 - 10
5
- - Noarlunga
83.3
0.3
1999/00
21
20/11/1999
68 - 140
48.6
72 - 119
58
- - Canberra
80.6
4.8
1998/99
22
19/02/1999
80 - 163
49.1
95 - 110
69
- - Dandenong
72.6
5.2
1998
12
05/04/1998
30 - 78
38.5
40 - 88
26
- - Dandenong
65.0
4.5
1997
19
15/08/1997
60 - 142
42.3
69 - 119
41
- - AIS
59.4
5.3
1996
18
31/05/1996
60 - 121
49.6
63 - 92
47
- - Tassie
74.6
4.7
1995
20
26/08/1995
37 - 74
50.0
47 - 69
28
- - Sydney
59.6
3.5
2012/13
26
16/11/2012
105 - 212
49.5
104 - 113
83
- - Sydney
79.8
5.5
2011/12
Summer
21
04/02/2012
74 - 155
47.7
49 - 108
35
- - Adelaide
71.4
3.6
2010/11
Summer
21
05/03/2011
- - -
0.0
65 - 113
53
- - Canberra
81.5
5.4
2009/10
Summer
23
07/02/2010
- - -
0.0
152 - 113
125
- - West Coast
82.2
6.3
2008/09
Summer
20
17/10/2008
- - -
0.0
85 - 101
68
- - Dandenong
80.0
5.5
2007/08
Summer
1
06/10/2007
- - -
0.0
2 - 6
2
- - Dandenong
100.0
11.0