G13 -Champions of Champions
Our Grade 13 Div 1 Team are Champions of Champions!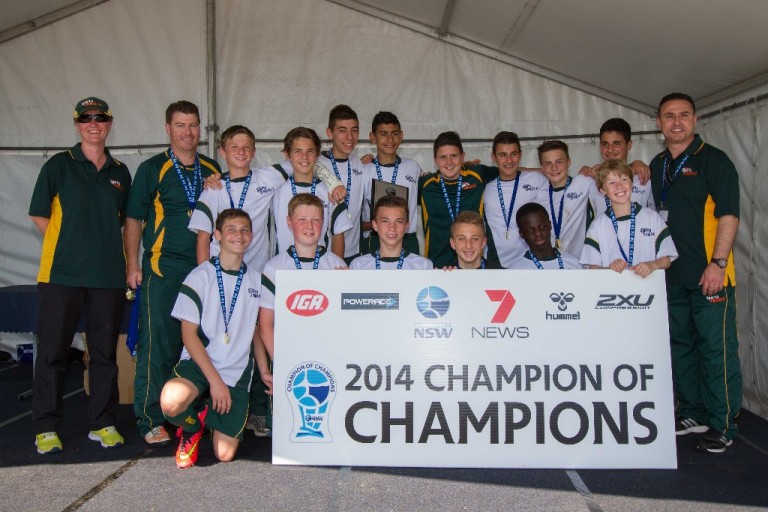 The highest honour for a grass roots football team in NSW is to be crowned Football NSW Champion of Champions. On Sunday 19 October our Grade 13 Div 1 team won that title, representing our Club and Bankstown District.
We thank Football NSW for the following article.
13 Boys
Auburn District 0 - Bankstown Sports Strikers 1
Bankstown Sports Strikers were the dominant victors in a tense struggle in the boys under 13s clash in the champions of champions festival.
The early stages of the game was dominated by Bankstown as the first attempt in the 15th minute by Alex Delinicolis after some well worked passing, was saved well.
Delinicolis turned provider to Larry Adeniran playing through the forward who skewed his effort wide. The constant threat on the Auburn goal continued as Ky Baldwin saw a corner fall to him and put an effort at the keeper.
Adeniran was a constant threat against the Auburn defence with some weaving runs. He got due reward in the 27th minute for the effort, scoring the only goal of the game. The ball pinged around the Auburn box before Adeniran popped up to smash it home.
There was almost double delight for Adeniran after the break. The striker latched onto a bouncing ball, swivelled and placed his shot almost too well, hitting the post after having the goalkeeper beat.
Marcus Licastro worked himself into the game after halftime. The midfielder was busy working on and off the ball. His energy was almost rewarded in the 35th minute after getting some space and hitting the post with a shot.
Bankstown were continuing to get into positions but couldn't put the finishing touch on a spirited Auburn side who were hanging on.
Two minutes later, Adeniran once again used his pace to beat the defenders, getting one on one with Bucker Eid, who smothered his effort well. Eid made several crucial stops for Auburn, keeping them in the game during the Bankstown barrage.
When you don't take your chances it gives the opposition a chance to break back. Auburn after being trapped in their half for the first three quarters sprang into life in the last fifteen.
Auburn continued to work themselves into positions but weren't able to convert. Their best chance fell to Mahmoud Elrich taking down a long ball well, rounding the keeper but was thwarted by a last ditch block.
As time ticked away, Auburn were getting forward and had one last corner before time expired. The corner was cleared away by dogged Bankstown defence and the whistle blew to crown Bankstown champions.
Match Stats
Auburn District 0
Bankstown Sport Strikers 1 (Adeniran '27)
Auburn: 1 EID Bucker (GK) 2 MALAS Fawzy 3 ELIAS George 4 HAJMOHAMED Ismail 5 ELRICH Mahmoud 6 ALAMEDDINE Jacob 7 ALI Zafir 8 ABDELKAFI Bilal 9 SHAHROUK Malek 10 BAZEVSKI Jamie 11 GRECH Joel 12 DENG Deng 13 CURRY Blake 14 DANDAN Bashar 15 RIFAI Abdul 16 EL ESSBER Rami
Yellow cards: Jamie Bazevski
Bankstown: 1 SANDS Clayton 2 ABOUNADER Christopher 3 RAMADAN Sami 4 BECHARA Andrew 5 BOURKE Joshua 6 ZEPINA Luka 7 COIRO Kyle 8 GEANY Tyron 9 ADENIRAN Larry 10 LICASTRO Marcus 11 FREEMAN Corey 12 ANDREOTTI Anthony 13 DELINICOLIS Alex 14 DJELEVSKI Michael 15 BALDWIN Ky
Yellow cards: Marcus Delinicolis and Andrew Bechara
-Report by Justin Davies
Last Modified on 20/10/2014 21:28