Home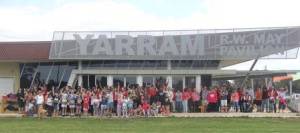 Yarram Football Netball Club
Welcome back for Season 2021
Here's to the sea of Red and White, on and off the field, week in week out, doing what it does best.
Welcome, Work and Win.
Go you Demon boys & girls!
For live news:
Add us on Facebook "Yarram Football Netball Club"
Follow us on INSTA @ yarramfootball
Yarram Football Netball Club is a Level 3 Good Sports accredited club.
Good Sports works with communities to make sports clubs safe and healthy by providing advice about managing alcohol responsibly and making clubs more family-friendly.
As a Level 3 Good Sports club we abide by our liquor license, have bar management strategies in place and our bar staff attend Responsible Service of Alcohol training. We also try not to rely on revenue from bar sales by seeking other income opportunities, have designated smoke free areas and we have a safe transport policy in place.
For more information visit GoodSports.com.au or Facebook.com/GoodSportsClubs