Three Dingos Reach Game Milestones
Over the past several weeks, the Toronto Dingos were proud to honour 3 key players who have reached game milestones for the club.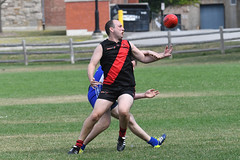 Rob McNaughton reached the 50-game plateau earlier this season. Having joined the club in 2015, Noddy quickly found a place in the forward line and has been a proficient scorer for the club, following in the huge footsteps of past full-forwards such as Craig Stewart, Chris Buczkowski, Wade Edwards, and Paul Tinkler. With the ability to take a strong contested mark and an accurate kick, Noddy has won the club Goalkicking award 3 years in a row, kicking over 120 goals in his career and counting. He also won the Stewart Award as B&F in 2016. Congrats, Noddy!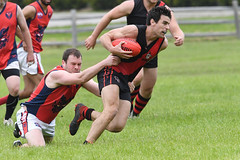 Michael Ladd has also reached the 50-game milestone for the Red & Black. Laddy joined the Dingos in 2014, naturally fitting into the role of on-baller. Quick and elusive, Laddy has been a key contributor to the midfield, feeding the ball long to his fellow Aussie, Noddy, in the forward line. In 2018, Laddy took home his first Stewart Award as B&F. Here's to many more! Congratulations, Laddy!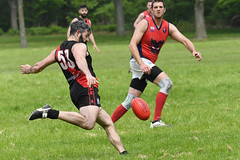 And finally, our hardnosed Canadian leader Michael Bocian, has reached the 50-game mark for the club. Bocian joined the Dingos in 2015 and has been a shutdown defensive presence right from the beginning. Often tasked with tagging and shutting down the opposing club's best player, Bocian is a fearless leader on the field and has served as Dingos Captain for the past two years. He also won the Stewart Award as B&F Canadian in 2016.
C'arn the Dingos!
Last Modified on 09/08/2019 01:31