Home
www.brightfc.sportingpulse.net
About the Club
With a rich history and a positive family friendly atmosphere, our club has been an integral part of the Bright community since 1890 and have been in the O&KFNL since 1955.
---
O&KFNL - Competition
In 2019 the United Bright Football and Netball Club (UBFNC) will represent eight teams all competing in the Ovens & King Football & Netball league (OKFNL). The playing group consists of over 150 athletes across our three football teams and five netball teams.
Men's Football
Seniors
Reserves
Thirds
Women's Netball
A Grade
B Grade
B Reserve
Under 17s
Under 15s
---------------------------------------------------------------------------------------------------------------
Commitment
It is important for us as a club to not only nurture and coach our players to become better footballers or netballers but to also strive to be better young men and women in our community.
As a result our three main goals to achieve are;
• To develop the Club and support our youth
• To be able to provide high quality equipment & facilities
• To operate as a club in a sustainable manner
---
2019 - Under 19 O&KFNL Premiers
2018 - Player Achievements
2018 was a successful year for UBFNC both on and off the field. We were well represented in the OKFNL, with all 8 teams making the finals and our Under 19 Footballers winning the Premiership Cup in the 2018 Grand Final.
The Club had many personal acheievments for the Season as well.
Footballers
O&K TEAM OF THE YEAR: Nick Lebish & Jarrod Hayse
RESERVES RUNNER UP BEST & FAIREST: Ross Hedley
U/19'S BEST & FAIREST: Alexander Dalbosco
U/19'S MVP: Alexander Dalbosco
U/19'S LEADING GOAL KICKER: Callan Mantryvirta
Netballers
B RESERVE LEADING GOAL SHOOTER: Jessica Barnik
U/15'S BEST & FAIREST: Ashlee Farmer
U15'S MVP: Ashlee Farmer
U15'S LEADING GOAL SHOOTER: Hettie Hurst
Both Leshae Hogan & Chad Martin represented the OKFNL in the League Squad
--------------------------------------------------------------------------------------------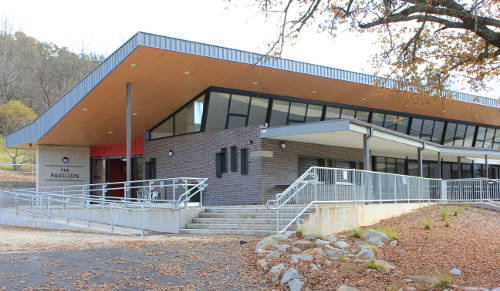 The Pavillion features:
Parking for several hundred cars
Semi-trailer access full turning circle
Entry and exit via Coronation Avenue or Cobden Street
Separate meeting room (seats 12-15)
Large function area (seats 150-200)
24 round tables
240 chairs
4 trestle tables
Commercial kitchen with fridges, freezers, ovens, commercial dishwasher and glasswasher, bain marie etc.
Crockery/cutlery for 200 people (no glassware or kitchenware)
Bar area
Projector and audio system available
Large outdoor deck area
Heating/cooling
The Pavilion also includes two large and two small change rooms, first aid room, umpire change rooms and accessible toilets.