About Us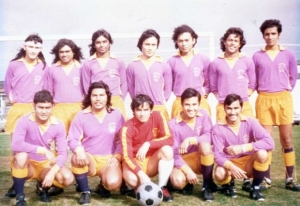 Chindits United is one of WA's longest running Amatuer/Social soccer clubs. The name Chindits derived from the mythical Chinthe– half lion, half eagle – placed to guard the entrance of Burmese pagodas and later adopted as the name for a special forces unit that served in Burma and India from 1942 to 1945 during the Burma Campaign in World War II.
In 1972, a group of young men, recently arrived migrants from Burma (mainly Anglo-Burmese), would get together to play football, have a kick around and use it as an excuse to socialise. Football was the National Sport of Burma and in the mid 60's and early 70's Burma was one of the top football nations in Asia.
By 1973 under the financial sponsorship of "Burma Friends Association", Chindits first entered competition in the West Australian Amateur League as, Highgate Chindits.Highgate and the surrounding suburbs of North Perth and East Perth was where the majority of new migrants from Burma were initially settled in.
The energy and drive behind the early formative years of Highgate Chindits came from one man, Mr Wayne Watts. He was their unofficial Manager, Coach, Captain, and Taxi service.
" It is said that, when he recruited players for Chindits, a common lament by his target was their lack of "football shoes", Wayne would then take them to his car and open his boot, where he had a boot full of second hand football shoes of all sizes, bought personally by him from the various Good Samaritan stores around Perth!
There was always one that would fit the future Highgate Chindits player and Wayne would have another recruit for his team.
When the team entered serious competition, Wayne's Father, Mr. Cyril Watts became the first Coach of Highgate Chindits. Training was initially at Banks Reserve in East Perth near the old Power Station, but by the time the team entered competition the training ground was switched to Raphael Park - Victoria Park.
When it got dark, the player's cars (a very few, not everyone had a car in those days) were lined up in a row and with the motor running, they would have their headlights shining onto the ground so that there was some light to finish the training session.
The first strips worn by the inaugural team were white T- shirts with a red band around the neck and a red armband, bought at the Meyers store and donated with compliments, by Albert Bernard.
The first Committee for Highgate Chindits consisted of:-
(Inspector) Arthur Green
(Commodore) George Kinsman
Mr. Ken Baroni
The Rolls Of Honour for the Inaugural Highgate Chindits Team are as follows:-
Goalkeepers - Albert Bernard, Albert Boudville, Ivan West
Defence - Lionel Carr, Seaton DeGois, William Aitken, Jimmy Morris
Midfield - Andrew Howell, Jimmy Abreu, Desmond Colkers, Winston Hopkins
Forwards - Hubert Carr, Eugene D'Monte
Reserves - Clinton Aitken, Sonny Aitken