Trials and registration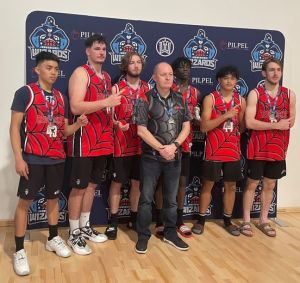 When and where are the trials?
Our trials for Winter Season 2023 will be held at the end of Term 1.
U11 (born 2013, 2014)
U13 (born 2011, 2012)
U15 (born 2009, 2010)
U17 (born 2007, 2008)

U19 (born 2005, 2006)
Players must have registered and paid their BQ fees and season fees to take part in the trials. This is for insurance purposes. Information about the fees are on the Northside Wizards website at https://northsidewizards.com/junior-player-registrations/.
Players are expected to attend both trials to enable the coaching team to assess players' skill levels. Players are placed into teams based on their performance at trials, so please make this a priority.
If any players can't make either of the trials please let us know beforehand by emailing redbacksregistrar@northsidewizards.net.au.
How do I register?
Due to the increasing popularity of basketball, Northside Wizards are close to capacity in terms of the number of junior teams that can be entered into the competition.
Current players will be able to register through a link provided by email. Players who do not register by the deadline cannot be guaranteed a spot in a team next season.
New players can register their interest by emailing Anne at redbacksregistrar@northsidewizards.net.au with the player's full name and year of birth. Once returning player numbers are known, all players on the wait list will be emailed regarding whether or not spots are available.
We have 36 teams and are always interested to hear from potential coaches and managers, please indicate your interest in these roles by signing up here https://www.signupgenius.com/go/10C0D44ACAC2AA5F5CF8-2023.
Confirmation of the correct age cut offs is on the Northside Wizards website at https://northsidewizards.com/junior-club-information-boys/.
How do the trials work?
Players who don't attend the trials cannot be assured of a spot in a team.
There will be no spectators allowed into the venue during the trials. Only prospective coaches, assistant coaches and club committee members will be allowed to enter.
All players are to bring a basketball clearly marked with their name, and a water bottle. Please wear a singlet as we will be writing numbers on the boys' arms to help identify them during the trials.
Please ask players to try their hardest throughout the trials so they are placed in a team that is the right level for them.
Players will be placed into teams and graded into division levels.
Please don't ask for players to be moved after the first trial.
Occasionally we will need to move players during the grading process, please be open to any changes requested. The aim is for players to have a positive experience of basketball.
How does the competition work? When are the finals?
Winter Season is in Terms 2 and 3 (April to September) and Summer Season is in Terms 4 and 1 (October to March), both with finals at the end of the season.
Northside Wizards offers a Wiz Kidz skills development program for players from 4 to 10 years of age.
Wizards also offer a Seniors competition for players who are 15 years and older.
Can players be put into teams with their friends?
We make all efforts to place players in teams based on their skill and ability. This helps ensure that players have a great basketball experience during the season. We do know that some players may want to play with their friends. During the trials, boys will be placed in teams of different playing abilities. We can't guarantee that friends will be placed together but we will consider requests only where players are the same playing ability.
Can players play with friends in an older age group? They go to school together.
Players must play in their correct age group. This a Wizards requirement. There used to be provision for players to play a second game in an older age group, but due to the new limits on capacity, it is unlikely that this will be able to be offered this season.
When and where will training sessions be?
Training sessions are likely to be on Mondays, Wednesdays or Thursdays. The earliest slots are given to the youngest teams. With 36 teams to find slots for, the more flexible coaches can be about times and venues the better.
Training times are only released once we have formed teams and allocated coaches. Our main priority when scheduling training is coach availability followed by venue allocations.
Across all clubs, U19s are not offered training.
How will I know what team my son has been placed in?
Team lists are published on our website once available. Teams will not be finalised until after the second trial. Please also note that during the 4 week grading period, players may be moved between teams.
Do I need to buy a uniform?
Once games start, all boys must wear plain black shorts (no pockets for safety reasons or large logos). Wizards have supplies of shorts available for purchase at Zillmere for $25. Suitable shorts are usually available in the active wear section of K Mart, or at Rebel.
All players will be provided with a club singlet for actual games. These singlets remain the property of Chermside Redbacks.
For training sessions, players should wear their own singlet.
When and where are the games held?
After trials, U11s and U13s play on Saturdays. U15s and U17s play on Sundays.
U19s play on Wednesday nights.
Div 1 games for U13s to U17s are on Friday nights instead of on the weekends to avoid the majority of rep game clashes.
All games are held at Northside Indoor Sports Centre at 20 Cambewarra St, Zillmere. If the venue is unavailable, games may be held at Boondall or Brendale.
Your team manager will confirm the game times each week. Games for the whole season are scheduled at the beginning of the season. Minor changes may happen week to week. You can look up the confirmed game times yourself on the Wizards website at https://northsidewizards.com/weekly-junior-fixtures/. Game times are usually confirmed on the Wednesday prior to the games.
Season dates are here.
Where can I look up the results of the games?
Game results are published on the GameDay website here.
GameDay by SportsTG also provides a great app to view game day and season stats from team results to individual players.
You can also make your team a favourite, so you can view upcoming fixtures and the competition ladder. The app automatically recognises which teams are associated with the email address you create the account with, so use the email address that you have registered with us.
Any late changes to the draw should be finalised by the day before the game.
Download for iPhone on the App Store here.
Download for Android on Google Play here.
Northside Wizards has signed on for Glory League which films all games at Northside Indoor Sports Centre. Glory League gives all players a link to view the game online if they are linked in with that game via SportsTG. This is a wonderful feature that allows people to watch highlight packages, send copies of games to loved ones interstate or overseas, and for coaching development & referee development. This is an added cost to the player season registrations of $10. The $10 is paid per season just as part of the season registration fees.
You will receive an email each week from Glory League after the first game at NISC. Check your junk mail folder if you do not receive the email.
Who coaches the teams?
Coaches are usually parents or relatives of players in each team. Elder siblings of players are also welcome and it is a great way for young people to develop leadership and teaching skills. Current and past players are encouraged to apply.
For the younger age groups, it is also helpful to have an assistant coach who can act as a backup if the coach can't make it to training or to a game. All prospective coaches will be asked to attend both trials to help with team selection.
Could anyone willing to be a coach or assistant coach this season please contact Jim Barry our Coach Coordinator at <mailto:redbackscoach@northsidewizards.net.au>
Jim provides coaches with coaching resources. Northside Wizards has also developed some coaching resources. There are also coaching courses available through Wizards.
Who manages the teams?
Managers are usually a parent of one of the players in the team. The main roles of the team manager are to deal with team communications, singlet management and score bench roster management.
All parents are expected to take turns on the score bench at games. There will be a paid Wizards staff member on the score bench who can help inexperienced parents with operating the scoreboard or the scoring system.
How do I contact club committee members?
All club committee members are volunteers with families and full time jobs and may not be able to respond immediately to emails. Northside Wizards prefers that all communications are by email, to make the roles manageable for busy parents.
Anne Li, Registrar <mailto:redbacksregistrar@northsidewizards.net.au>
Jim Barry, Coach Coordinator <mailto:redbackscoach@northsidewizards.net.au>
Jim Barry, Club Manager <mailto:redbacksmanager@northsidewizards.net.au>
Aileen Pickering, Uniform Coordinator <mailto:redbacksregistrar3@northsidewizards.net.au>
Cassie Parker, Saturday Age Group Coordinator
How do I keep up to date with the latest news?
Keep an eye on our Facebook page here.