History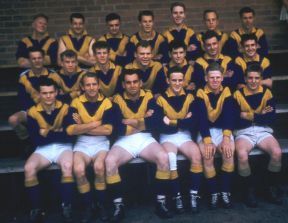 Mr Laurie Barnett, who was on the Dandenong Council for our area and was a market gardener in Dingley. Laurie got the council to purchase the land for a sports complex and a community hall for the people in the Dingley Area. The land was purchased from the Lake brothers. In that week the land was purchased, the Recreation Committee was set up with Joe Souter as President, Ralph Corrigan as Vice President, Alice Harris as Secretary and Tom Souter as the Treasurer.
Through the Recreation Committee the Oval and Community hall was built. During this time the Springvale and Noble Park Council was formed which they took over the complex from the Dandenong Council. The Council and the Recreation Committee worked together for up to Fifteen years before the Recreation Committee folded up and the Council took over.
Joe Souter was President for all those years, so the main oval was named the Souter Oval. Ralph Corrigan was Vice President for the same amount of time so the little oval was named the Corrigan Oval.
The Dingley Football Club started a committee in 1958. The oval was ready to play that year but they had to wait another year to let the ground settle down. In 1959 the Dingley Football Club started playing football with one Senior team.