Club History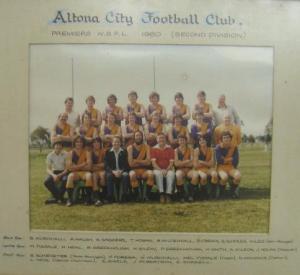 Altona Football Club was established in 1918 in a Pier Street café by James Duke, Dick Blomberg and a number of other business people from Altona.
James Duke`s son George was the first soldier from Altona to return home after WW1 and his battalion`s colours of Purple & Gold were adopted by the newly formed Altona Football Club as their guersey colours.
The first Altona FC ground was in a paddock near the corner of Civic Parade & Millers Road Seaholme. Other grounds were Rowdens Paddock (Cherry Lake), and "The Mine Paddock" which was situated near Harrington Square. Most of Altona FC early grounds were roughly marked out paddocks.
Records show that Altona played in the Young Men`s Christian Association (YMCA) Competition in 1925 which was a miss mash of teams with no points or ladder allocated to clubs. In 1926 the club then moved to the Melbourne & Suburbs Football Association (MSFL) in the A Grade section.
In 1927 & 1928 Altona FC returned to the YMCA Competition which included teams such as Newport, Parkside, Myers, Oakleigh Druids, Sunshine Rovers and two of the more interesting teams in: Chinese Progress Association & Chinese Athletics.
Altona then played in the Victorian Football Association (VFA) Sub Districts - B Division in 1929 against Port United, North Williamstown, North Port Melbourne, Montague, South Elsternwick, Yarraville Districts, Williamstown Districts, East Preston & Victoria Park, before joining the Werribee District Football Association (WDFA) in 1930 winning Premierships in 1930 & 1932.
In 1933 Altona FC joined the Footscray District Junior Football League (FDJFL) which commenced in 1931, and played in this league until they rejoined the WDFA in 1938 until the end of 1942 or 43 when they disbanded due to the war. Altona `s nickname in the 1930`s was "The Sea Dogs".
In 1945 a meeting was held at Leo Barnes` shop in Pier Street to kick off the Altona Football Club again with the team playing on a site near to where the ground is today.
1945 saw Altona join the Footscray District Football League (FDFL) - B Grade section where they finished 8th. In 1946 Altona changed the jumpers from Purple & Gold to Navy Blue with a White "A" on the breast due to a lack of coloured wool after the war.
In 1947 with ex-Hawthorn player Gordon Timmins as coach, Altona were the FDFL - B Grade Premiers & Champions going through the season undefeated.
1950 saw the Altona Seniors in recess and only play an Under 18`s side in the FDFL but rejoined the FDFL competition in 1951 to win the B Grade Premiership.
1952 Altona could not raise a C Grade side in the FDFL which was a requirement to play in the league. This saw Altona return to the WDFL back in their Purple & Gold colours where they won two Premierships in 1956 & 1964.
In 1965 Altona FC moved to the Metrpolitan Football League (MFL) but the 2nds stayed in the WDFL until 1966. Altona played in the MFL until the end of 1968.
In 1969 Altona wanted to join the Western Suburbs Football League (WSFL) but the MFL would not grant them a clearance, also financial hardship threatened to see the club fold. At a General Meeting held in the St Marys Hall on Friday 28th March 1969, the new Altona City Football Club was born and played in the WSFL five winning Premierships in six years - 1970, 71, 72, 73, 75 & 76.
In 1977 Altona City FC joined the FDFL until the end of the 1979 season. Altona rejoined the WSFL in 1980 winning the Division 2 flag. Altona City played in the WSFL 1st Division until 1987 when they won the flag.
1988 saw the WSFL merge with the FDFL and the remaining sides playing in 2nd Division. Altona City won the 1991 FDFL A2 Division Flag and was promoted to the A1 in 1992.
At the AGM 4th October 1992, it was voted that Altona City Football Club would be renamed Altona Football Club and records of both the Altona City Football Club from (1969 – 1992) and Altona Football Club from (1918 – 1968) & (1993 – present) be recognized as one.
The Altona Football Club found itself back in Division 2 in 2004 but had immediate success winning the 2004 premiership with Hayden Post as coach. In a surprise decision, the club decided not to accept promotion back to Division 1 due to financial constraints, and after appointing former North Ballarat VFL players Aaron Freeland and Sammy Ellis as co-coaches in 2005, Altona successfully defended their title by winning the 2005 flag to make it back to back premierships.
Altona was promoted to Division 1 in 2006 where the club struggled on the field until former dual JJ Liston Medalist Anthony Eames was appointed senior coach in 2009 and Altona Football Club is quickly establishing itself as a competitive force in the Division 1 competition.
ALTONA FOOTBALL CLUB PREMIERSHIPS (18 SENIOR)
1930 – Werribee District Football League
1932 – Werribee District Football League
1947 – Footscray District Football League B Division
1951 – Footscray District Football League B Division
1956 – Werribee District Football League
1964 – Werribee District Football League
1970 – Western suburbs Football League
1971 – Western suburbs Football League
1972 – Western suburbs Football League
1973 – Western suburbs Football League
1975 – Western suburbs Football League
1976 – Western suburbs Football League
1980 – Western suburbs Football League Division 2
1987 – Western suburbs Football League Division 1
1991 – Footscray District Football League Division 2
2004 – Western Region Football League Division 2
2005 – Western Region Football League Division 2
2012 – Western Region Football League Division 1
Altona have won at least one premiership in each decade since 1930 (averaging a premiership every 4.7 years).
Acknowledgement - The Altona Football Club would like to sincerely thank club historian Mal Pinney who provided much of this information and important historical records.