Saturday Morning SkillZ 2020 - 4-8 yo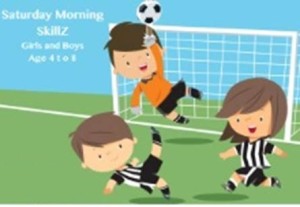 Brunswick Zebras' highly popular Saturday morning introductory Skills program for 4 to 8 year olds is back again for 2020.
Saturday Morning Skillz is held on Saturday mornings at 10:30 am at Sumner Park.
To complete an Expression of Interest, please click here.
A fun but structured introduction to the game for young players, Saturday Morning Skillz includes football based activities, individual ball work and small-sided games at the end of each session.
We also have a group just for girls.
Brunswick Zebras offers this program on Saturday mornings during the 1st, 2nd, 3rd and 4th school terms.
New players welcome. Tell your friends!
The program will be run over one 1 1/2-hour session from 10.30 am to 12.00 noon. Coaching resources will be allocated to indivdual groups during this time based on age/ability.
Our Team is led by Robbie Peters, a former professional player in England who is now a leading sports conditioning trainer and coach of young football players. Robbie has been associated with our club for the past four years and runs the Saturday Morning Skillz program with his fantastic mix of expertise and enthusiasm.
Where: Sumner Park, Alister St, Brunswick
Cost:

Your first term - $200
(please note that the calendar year runs from 1/1/20 to 31/12/20 - each new year is a "first term")

Subsequent Terms - $130 per term
What your child gets:
a weekly 1 1/2 hour program of child-centred activity where they learn football skills in a fun and supportive environment with lots of game play not just drills
qualified coaches who plan fun learning sessions, know what to look for and encourage participation and improvement for the individual
a cool outfit comprising shirt, shorts and socks.

a pathway into a suitable and supportive club team when they are older and ready for competition
a community club which is affiliated to Football Federation Victoria (FFV) and which meets the requirements for the Football Federation Australia (FFA) National Club Accreditation Scheme
personal registration with FFV and FFA, including insurance
access to Club Victory, an affiliation between Zebras and Melbourne Victory FC giving access to special MVFC events and player appearances
a high quality medal to commemorate and celebrate their participation in the program
Program Dates:
Term 1 - 8 February 2020 to 28 March 2020

Term 2 - 18 April 2020 to 27 June 2020 (not Anzac Day)

Term 3 - 18 July 2020 to 19 September 2020

Term 4 - 10 October 2020 to 12 December 2020

To help us plan our program and so we can keep you informed please fill in our Saturday Morning SkillZ Expression of Interest Form by clicking HERE.

Items for your child to wear/bring to the first session:
runners or footy/soccer boots;

shorts;

a soccer shirt (any team!) or just a T-shirt is fine;

a cap;

a water bottle;

a jacket if the weather is cold(ish)- who knows in Melbourne?

Weather conditions:
We will always let you know when we plan to cancel Saturday Skillz due to extreme weather, both on our "News" section of our website as well as on Facebook. And if time permits, via email.

Registration:
Registration for Saturday Skillz is available here.

When registering, you will need to choose "Social" and then "Social" again.
We look forward to having you and your child on board as another member of the Brunswick Zebras family.
PS : We look after the parents too…. We have a canteen open on Saturday mornings and as a club with an Italian heritage we have great coffee made fresh! You can go down by the pitch fence to watch your child or sit under the sheltered veranda and watch from there. Or sip your coffee inside our clubrooms and read the Saturday paper.