Welcome New Players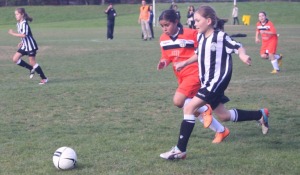 New players of any age or background are very welcome at Brunswick Zebras FC.
As a strong community club servicing the inner northern suburbs (including the Cities of Moreland, Melbourne, Darebin and Yarra) we aim to provide a full range of teams including senior men and women, junior boys and girls and introductory Mini Roos programs.
Here is some basic information about the club.
Matches
Our main home ground is at Sumner Park in Alister St East Brunswick.
Home matches will also be played in 2018 at Ryder Oval off Park Street Parkville.
Senior men play home matches on Saturday afternoons.
Women and juniors play on Sundays.
Training
Training for most teams is two nights per week Monday through Friday. Training details can be found here.
Training might be at Balfe Park or Fleming Park in East Brunswick, on the synthetic pitch at Clifton Park or at McAllister Oval on Park Street Parkville. Details on where these grounds are can be found here.
Season Calendar
Senior Men's competitions start on 25 March
Senior Women and Juniors start on 15 April.
Competitions run through to mid September.
Fees
Brunswick Zebras aims to keep football as affordable as possible and encourage participation while still providing a high quality experience.
Fees for 2018 will rise slightly to cover costs of additional apparel. The fees are yet to be finalised but will likely be:
Seniors $645 (comprising $450 direct payment and $195 fundraising contribution)
Juniors $650
Sub-juniors/Mini Roos (u9 to u11) $550
Saturday SkillZ - $170 for the initial term, $120 for additional terms
These fees cover nearly all costs, including registration and insurance through FFV and FFA, playing uniform (shirt, shorts, sox), referees fees, training equipment and balls, ground and lighting costs, coaching costs, tracksuit (seniors and juniors) or hoody (Mini Roos) and the annual presentation day. Players must supply their own boots and shin guards.
We have discounts for families with multiple players.
We also have special arrangements for refugee families and concession card holders. Please speak to our Club Administrator about these arrangements.