Junior Program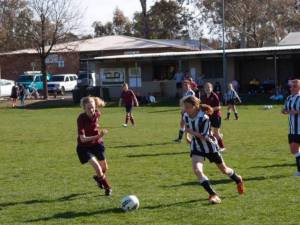 Welcome to the WMFC Juniors program (Under 10 - Under 18)
Players in the U10 to U18 age groups play in the Capital Football Junior League. Players can participate in Open (mixed) or Girls competitions. These competitions are graded and games are played all over Canberra and regional areas including Yass, Bungendore and Cooma.
WMFC offers a range of levels for juniors to compete in, ranging from more community leagues (at division 1,2 or 3) through to the junior age grades of our Men's National Premier League programs (NPL2 Youth U13, U14, U16 & U18).
The U10 and U11 age groups still follow the small-sided games format with games played on a smaller field (half pitch) with fewer players (9v9), smaller goals and no offside. The U12s and up play full field and full rules. See below for the Coaches & Managers Handbook.
Player registrations are generally based on the age they turn in the year they are competing. For example, a player turning 11 any time in the registration year will play U11. However, players may be accepted in an older age group depending on circumstances. Girls playing in the Open competition may play in the age group below their age that year (eg a girl turning 12 may register in U11 Open but must register U12 in Girls).
Volunteers
Weston Molonglo Football Club is community based, relying entirely on the efforts of volunteers to run smoothly. Coaches ­courses are held for new coaches and those wishing to upgrade their skills, and assistance is provided during the season. WMFC will fully reimburse any person who succesfully completes a Capital Football FFA coaching course.
Junior players who would like to coach or assist coaches of MiniRoos teams are most welcome.
As this is a team sport, all parents assist with setting up fields and packing away afterwards as required. This is not a job for the coaches and managers, who will be busy organising their team.
Team managers coordinate the team and supporters, ensuring everyone is aware of any last minute changes. They are invaluable in helping teams run smoothly, and require no specific knowledge of soccer.
Age Group Co­ordinators ­are the main contact between individual team managers and the Club committee. They assist the registrar with the placement of players in teams and are often the first point of contact when problems arise with teams in their age group.
If you can help with some of these tasks, please contact junior_chair@wmfc.org.au to find out more. Offers of assistance are always appreciated. Remember, WMFC is a community club and is only as strong as the families that get involved.
Junior Committee meetings
For discussion of issues in running the Club, we welcome and encourage your attendance at all our meetings. Meetings are usually held once a month. If you'd like to come, contact junior_chair@wmfc.org.au for details of the next meeting.
Coaches & Managers Handbook
Attached below is the Coaches & Managers Handbook. This handbook requires updating and is currently under review, however, it will provide guidance.