Women's Program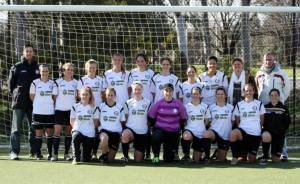 Weston Molonglo FC has achieved international acclaim for the achievements of our women. In 1993, the club was awarded the Guinness Book of Records title for Australia's longest consecutive First Division Premiership wins in all codes of football. That record included 12 consecutive First Division League Championships, and 106 games without conceding a goal.
This golden age produced a number of incredible football talents who would later go on to professional careers and international call-ups. Julie Murray achieved 50 Matildas caps, including captaining Australia to two World Cups, representing her country at the Olympics and being named in the first ever FIFA World All-Stars Team. Matlida Sacha Wainright was also a WMFC player, and a number of current Canberra United stars including Captain Ellie Brush and midfielder Jennifer Bisset spent time at the Creek.
The Club currently fields highly successful Women's Premier League squads, as well as State League teams and a dominant Masters program. We are always looking to increase participation of women across all three streams and are striving to maintain our excellence in each arm of the women's program.