Men's Program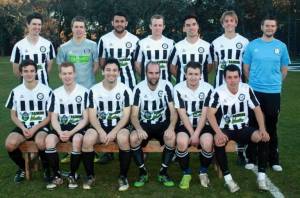 Weston Molonglo Football Club has a long and proud history of achievement in men's football in the ACT. During the 1980's and 90's the club (formerly Weston Creek Soccer Club) was a perennial fixture in the top flight of ACT Men's football. During that time, the Club made the premier league semi-finals on numerous occasions, with the squad's top achievement, winning the ACT Federation Cup in 1996. Because of this victory the club was placed in the 4th round of the New South Wales Waratah Cup, where we played then NSL powerhouse Marconi Stallions.
The Club has fostered a number of high profile footballers, including former Socceroo Steve Hogg, who went on to play for Canberra City and the Brisbane Lions in the NSL, and more recently brothers Mark and Jason Geria who both represented Australia at junior levels and have both gone on to play in the A-League for Sydney FC, Melbourne Victory and Brisbane Roar respectively. Other notable players include club stalwarts Marty and Steve Lazarri, Steve earned the Premier League's 'Golden Boot' three times while playing for the club, before going on to play for the Canberra Cosmos and winning the NSW PL 'Golden Boot' and 'Player Of The Year' awards while representing the Belconnen Blue Devils.
Since 2003, the focus of the men's side has turned to the State League and Masters divisions. Weston Molonglo teams have won a number of titles in these leagues, notably being crowned Men's State League Club Champions for 2008 after winning a host of league titles and grand finals. Successes in 2012 included minor Premierships for State League Division 11 (who narrowly lost their Grand Final decided by penalties), the Masters Division 1 team were minor Premiers and Grand Final winners again (with Steve Lazzari again winning Golden Boot), leading the club to be crowned Capital Football Men's Master Club Champions for the second successive year.
The Club currently fields a number of teams across the Capital League, State League and Masters competitions. We are looking to improve performance across all leagues, and have our sights firmly set on a return to the ACT Premier League in the near future.