How do I get involved?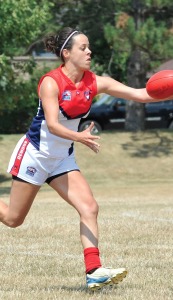 It's not uncommon for players who are thinking about trying Aussie Rules have lots of questions before they get started. You've come to the right place!
Getting involved is the easiest thing you'll ever do. The Dees are a welcoming group who are always glad to see a new face at the pitch on training or game days. You won't look lost for long before someone runs over to get you set up with a footy!
TELL ME HOW TO BE A DEMON NOW!
Not QUITE sure?
Here are some popular questions we're used to fielding from new recruits:
Can anyone try it? Do I have to be male/female/tall/short/bigger/experienced/athletic?
The Dees have male and female teams and we welcome people of all skill levels and athletic ability. We're a welcoming team with a relaxed attitude and great social events. You do have to be at least 16 years old to play a game, but you can train with us until you get there!
When should I come to Training?
The answer is always the same: THIS WEEK! No time like the present, my friend. Why put off a great time playing a great sport with great friends when you could come down today?

Okay, where is this "Training"?
Pre-season training is held on Saturdays at Lamport Stadium near King and Dufferin. Outdoor training will be held on Thursdays at Bloor Collegiate right by Dufferin Station. Visit our Facebook group for details.

What should I bring to Training?
Simple - just wear clothes for running. Wearing soccer cleats is optimal, but running shoes are perfect initially. Bring your own water bottle if you like, but we usually have enough for the team on hand.

What do I say when I get there?
Just look for the red oval balls and walk up to anyone nearby and say that you were looking for "Aussie Rules" training. Whoever you meet, whether playing or spectating will find someone to get you set up with a ball and any kit you forgot at home that day. Everyone is eager to share our sport with a new face! :)
What will I do when I'm there?
The first time you come to training we'll teach you the skills one on one. We'll show you the techniques for kicking, handballing and marking(catching), and answer any questions you have about game elements such as running with the ball, tackling, and scoring. That said, don't overthink it! Aussie Rules comes from Australia so no one on this side of the globe comes to training knowing how to play it. We all learn together as we go!

What do I need to play a game?
The uniform is supplied by the club, so you'll be given a jersey, shorts, and a pair of socks to wear. You will need to bring your own mouthguard and ideally soccer cleats with plastic studs. Running shoes will do in a pinch but can be very slippery on grass. Don't have cleats? Just ask! Someone's bound to share your size and have a spare pair.

Shouldn't I just watch you play a game before I get out there?
Absolutely not! The only way to really learn the game is to get on that field! Aussie Rules is a game that is built around lots of helpful talk and encouragement on the field. Plus that way you'll learn that it's not to scary to get tackled once in a while.