Footy 101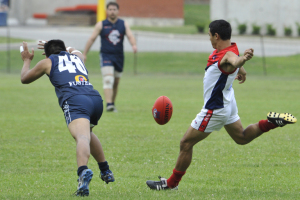 TELL ME HOW TO BE A DEMON NOW!
(Click Here)
Australian Rules Football (also known as footy) is a field sport that combines the skills of soccer, rugby, hockey, and basketball. It is a fast-paced and exciting game that requires physical fitness and determination.
Scoring
Kick the ball through the middle posts to score 6 points (also known as a goal)

Kick the ball through the outside posts to score 1 point (also known as a behind)

If the ball is touched by the opposing team, only 1 point is counted
Playing Surface
A 150-metre long and 130-metre wide oval, which equals 2.5 football fields

18 players per side

Goal posts at each end
Positions
Soccer style positions - two forward lines, a centre line, and two back lines

Three additional players are designated to chase the ball around the field
What do you do when you get the ball?
1) Run
You are allowed to run 10m with the ball

If you wish to run further, you must bounce or touch the ball to the ground
2) Hand Pass
Hand pass by hitting the ball out of your hand with a closed fist

You may hand pass in any direction
3) Kick
If you kick the ball at least 10m and another player catches it, they "mark" the ball and receive a free kick

At any point you can hand pass the ball or move off the "mark" and the play becomes live
What can you do if you don't have the ball?
1) Shepherd
If you're within 5m of the ball, you can shepherd (block) another player with your shoulder or back to impede an opponent

A block can protect your teammates from a tackle or give them extra time to move the ball down the field
2) Tackle
You may tackle an opponent only if they have the ball in their possession

All tackles must be between the knee and shoulder

You may not push or hit someone from behind
Free Kicks
Beyond improper tackles, free kicks are also awarded for:

Improper disposal: if a tackle causes the player to drop the ball without properly hand passing or kicking the ball.

Running too far: if a player carries the ball for more than 10m

Holding the ball: if a player fails to quickly get rid of the ball and is tackled
Click here for a more detailed description of the rules.
Click here for a more detailed description of positions on the field.