Canada Day Cup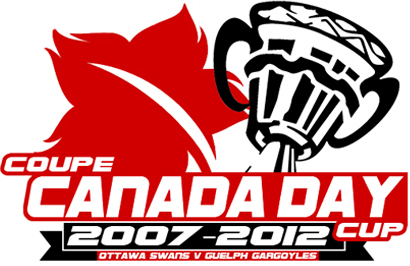 The Canada Day Cup was the idea of the original Swans Board of Directors during the Swans 2007 exhibition games as part of an effort to add some significance to the games. On July 1st, 2007 the Swans hosted the Central Blues in Ottawa in the very first Canada Day Cup. The Swans went on to win this first encounter earning the right to have the clubs named inscribed on the cup.
| Team | Canada Day Cup Wins | Total |
| --- | --- | --- |
| Ottawa Swans | 2007, 2009 | 2 |
| Guelph Gargoyles | 2008, 2010, 2011, 2012 | 4 |
In 2008 the Swans had come a long way. The club was accepted into the OAFL and was eager to keep the Canada Day Cup alive as part of the OAFL schedule, not only putting the cup on the line, but also regular season points. The OAFL approved of the fixture being a part of the season, however, the Blues would declined the offer to continue their association with the cup. Instead the Guelph Gargoyles were offered the opportunity (Guelph being the only other team to play the Swans in 2007 exhibition games) and agreed to play for the cup helping to build a lasting rivalry.
The Canada Day Cup is played on Saturday of the Canada Day weekend here in Ottawa. The Swans and Gargoyles hope to keep the tradition alive and while the Cup itself may head down the 401 in coming years, the game will continue to be contested in Ottawa.
| Year | Result | Best Player |
| --- | --- | --- |
| 2012 | Guelph 11-21-87 def. Ottawas 2-5-17 | |
| 2011 | Guelph 18-13-121 def. Ottawas 4-5-29 | |
| 2010 | Guelph 7-14-53 def. Ottawa 5-3-33 | Jeff Borysiewicz (Gargoyles) |
| 2009 | Ottawa 13-8-86 def. Guelph 3-7-26 | Darren Roffey (Swans) |
| 2008 | Guelph 5-4-34 def. Ottawa 6-11-47 | Greg Logel (Gargoyles) |
| 2007 | Ottawa 16-15-111 def. Central Blues 6-1-37 | Joel Dawes (Swans) |