Women's Football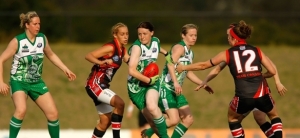 The Ottawa Swans have been fielding a women's team since 2012. The women's team competes in the AFL Ontario Australian Football League competition.
The women's team trains at the same times and locations as the men, but train under a different head coach and play against only women. The AFL Ontario season sees them play less games than the men as there are less women's clubs in the league.
Women's Australian Rules Football is a fast growing sport played at the senior level in Australia, United States, United Kingdom, New Zealand, Canada and Japan, and is quickly expanding to countries across the globe.
The women's game offers the same exciting and dynamic action of the men's competition, requiring both hand and foot co-ordination, speed, agility and endurance. It is a fast-paced team sport and is played by women of all different sporting backgrounds.

Canada boasts two senior women's football leagues and several clubs nationwide. Youth girls development programs are established in Alberta, British Columbia and Ontario and are contributing to the rapid expansion of the women's competition.
The Canadian national team, formed in 2007, is known as the "Northern Lights". The team first competed in two matches against the USA Freedom in 2007. The team continues to aggressively compete internationally, finishing second in the 2011 International Cup in Australia.
As this sport continues to grow, the Ottawa Swans Australian Football Club is excited for this new opportunity.
Intrigued? Interested in joining? - Check out our Recruitment page or Contact Us!