Club History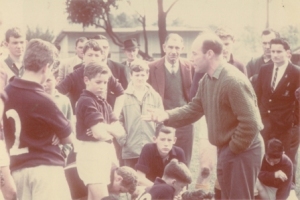 The Norwood Football Club was established in 1960 by Mr David Jamieson a Teacher at Norwood High School. He recognised the lack of junior sporting club facilities on offer in the North Ringwood area for his students and subsequently entered junior sides in the local competition which was then the Ferntree Gully Football League. The new club with the school ground as home base prospered and in 1961 the club fielded it's first senior side. Junior success came quickly with premierships in 1965 (U16) and 1968 (U14).
Outgrowing the school facility the fledgling club moved to recently reclaimed land at Mullum Reserve in 1971, (Premiership U/13) initially sharing the ground with North Ringwood. In 1972 Norwood became a founding member of the newly created Eastern District Football League and gained sole occupancy of it's present ground in 1974 (U/13 Premiership). The club became the envy of the E.D.F.L. with the addition of the Social rooms in 1975. 1982 saw Norwood triumph by taking out it's long anticipated first Senior Premiership. The club was incorporated under the Associations Incorporation's Act on 22 January 1985 (U18 premiership). 1989 saw the seniors add a second Premiership within a decade.
After many years of discussions and informal association with the Norwood Cricket Club the Norwood Sporting Club was formed in 1991 so that mutual benefits to both clubs could be encompassed under the one umbrella. The early 1990's brought a resurgence in the junior club with U/14 premierships in 1992/93 and 1994. In 1994 the Mullum Vic Kick was formed to promote football in our region as well as providing a steady feeder for the Norwood. J.F.C. The clinic subsequently became Norwood Aus Kick. The U/12 & U/13 premiership wins in 1998/99 can be directly linked to the success of our Aus Kick programme.
The Senior side also triumphed in 1999 taking out it's third flag and gaining promotion to division 3. In 2003, Norwood added a third Premiership to its collection.
In 2006, Brett Ratten joined Norwood as Senior Coach which amped up the profile of the club, unfortunately Brett returned to AFL as Assistant Coach at Carlton.
In 2007, after being Division 2 Runners Ups in 2006, we were asked to join the elite in First Divsion, the current President Mark Etherington & his committee had many discussion on the pro's and con's but in the end made the decision to "go for it".
After a few years of finals appearances but not delivering, the ultimate was finally upon us, a first division Grand Final appearance, on Saturday 20th September 2014, we acheived the ultimate success and took out the 1st Division EFL Premiership. This was over 15 years in the making, our success a credit to Mark Etherington's belief, professionalism and passion.