1919*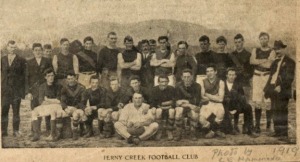 While OFCFNC makes no formal claim for this flag there are nevertheless some issues worth raising in regard to the outcome of the 1919 season and the fate of the "premiership".
In those days the flag was awarded to the club which finished on top of the table.
Helen Coulson's benchmark local history book "The Story of the Dandenongs" lists Ferny Creek as the winner of the premiership in 1919.
However it's thought Ms Coulson's view was informed by Ferny Creek legend Charlie Hackett who may well have carried some ill will over this matter.
The colourful story of the 1919 flag is detailed in the PDF below, along with news articles about the subsequent court case.

This is what we know-
Monbulk has been listed as the 1919 Premier since early in the 1920s.
In 1919 Monbulk lost points for playing an ineligible player, which allowed Ferny Creek to assume top spot on the ladder.
Post season Monbulk challenged this result in court,however records of the court procedings are inconclusive and may in fact favour Ferny Creek (the palintiff- Monbulk- is listed as wrong suited which means it can take further action if required)
Ferny Creek withdrew from the MDFA
We are eager to hear from anyone who may have access to further news articles about the above issue.
Similarly we would like to hear from anyone who can offer a conclusive judgement about the outcome of the court case based on the articles in the PDF below.
( we thank Monbulk historian Armin Richter for the photo on this page-Arnold believes the pic was taken at Bayswater with the Dandenongs in the background. Armin's exceptional book on the history of Monbulk football club tackles the 1919 story and many others with verve and credibility)