2013 U/18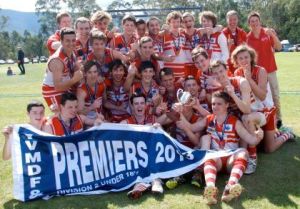 Three years after our back-to-back underage premiership triumph OFC found itself in the race for the Flag again as another very talented group of boys emerged from our junior program.
Jayden Faull was the only boy to play in the 2010 and 2013 premiership teams. His cousin, Cam Cole, also joined OFC and provided a match winning target at full forward.
Dylan Arnold, nephew of Life Member Neil Arnold and a friend of some of the OFC boys, was a very significant recruit. Dylan was among our best on Grand Final day.
Stuart Horner, Ethan Greenall, Rhys Cottam-Starkey and the Rankin twins (Josh and Jay) were skillfull youngsters coming through the system and played some games during the year, including the Grand Final.
All those boys would go on to play senior football.
Horner , in particular, was a stand out and eventually made the list at Box Hill with the aim of breaking into the Hawthorn line-up.
Two other stand out players this year were Nick Keegan and Jack Prato. Keegan had won the League Best and Fairest award two years earlier while Prato would take home that same honour two years later.
During this season YVMDFNL ran a combined ( two division) U/18 competition and then ran two seperate finals series.
So we need to note that OFC finished sixth on the combined ladder and then went on to win what was essentially the Division Two flag.
Having said that we should also note that Stuart Horner, Keegan, the Rankin brothers, Greenall and Arnold ( arguably our best players) did not play the whole season and in the cases of Horner and Keegan barely qualified for finals.
Others from this team who would go on to figure in Senior footy in the years ahead included Cameron Horner ( B and F), Brendan Cooling and Mitch Low-Morris.
OFC also made the grand final the following year, but lost to Healesville. In 2015 we again made finals in Dvision One but this was the last season in a golden era for our juniors which stretched back to 2009.
We weren't able to field U/18s for another three seasons.
Historic footnote :
Josh and Jay Rankin were members of this premiership winning team in 2013. Four years later they played in the senior Division One flag. The Rankin boys followed in the footsteps of their father Marty (1988 flag) and grand father Keith ( 1960s flags).
Jayden Faull also continued a family tradition. He was a member of two U/18 premiership teams. His father Grant played alongside Marty in the 1988 team while grandfather John was a member of our first junior flag in 1958.
Second Semi Final
Mt Evelyn Oval- Sunday Sept 1
| | | | | |
| --- | --- | --- | --- | --- |
| OFC | 2.2.14 | 6.6.42 | 9.11. 85 | 14.12.96 |
| HEALESVILLE | 2.6.18 | 4.9.33 | 6.10.46 | 7.14.56 |
Goal Kickers- C.Cole 4 J.Prato 2 B.Cooling 2 D.Arnold C.Horner A Cachia E.Smith C Beattie Jay Rankin
Best Players- C.Horner Jay Rankin Josh Rankin B.Jones, C.Cole M.Morris
Grand Final
Yarra Junction Football Ground- Saturday 14 Sept
| | | | |
| --- | --- | --- | --- |
| BACKS | A Cachia | C Dixon | A Smith |
| HALF BACKS | M Lowe Morris | B LeTicq | Josh Rankin |
| CENTRES | J Prato | C Horner | J Faull |
| HALF FORWARDS | D Swanson | D Arnold | K Foik |
| FORWARDS | B Jones | C Cole | N Keegan |
| RUCKS | M Dekjlin | Jay Rankin | S Horner |
| INTER | R Cottam Starkey | E Greenall | N Smith |
| INTER | C McClelland | B Cooling | C Beattie |
Olinda Ferny Creek
Goal Kickers:

C. Cole 4, N. Keegan 3, S. Horner 2, J. Prato , D. Swanson , D. Arnold , C. Horner
Best Players:

S. Horner, D. Arnold, C. Horner, C. Dixon, Jay Rankin, M. Morris
2013 Best and Fairest- Cameron Horner
Final Series Goal Kickers
| | |
| --- | --- |
| C Cole | 8 |
| J Prato | 3 |
| N Keegan | 3 |
| D Arnold | 2 |
| CHorner | 2 |
| S Horner | 2 |
| B Cooling | 2 |
| Jay Rankin | 1 |
| E Smith | 1 |
| A Cachia | 1 |
| C Beattie | 1 |
| D Swanson | 1 |
Finals Series Vote Winners
| | |
| --- | --- |
| C Horner | 10 |
| Jay Rankin | 6 |
| S Horner | 6 |
| D Arnold | 5 |
| Josh Rankin | 4 |
| C Dixon | 4 |
| B Jones | 3 |
| M Morris | 2 |
| C Cole | 2 |