2009 U/18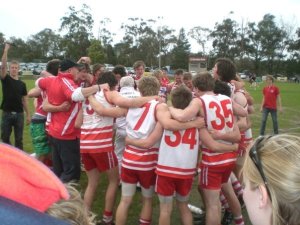 This was only OFC's second junior flag in 50 years highlighting the difficulty small communities have in attracting enough teenagers to compete with larger towns.
However this was indeed a very special group of boys.
The core players of this group had dominated their age levels at every stage of their junior careers.
By the time they had transitioned to U/18s three of the boys, Patrick Rosier, Dylan Troutman and Declan Fitzgerald were already playing senior football.
Fitzgerald was also in the Eastern Ranges program.
As you can see from the list below none of that trio played in the 2009 junior Premiership team. They were already promoted to the senior team which also saluted on grand final day.
Of the other players Josh Wallis and Callum Beattie went on to play around 150 senior games.
Harry Cole and Callum Eade were also set for storied careers in senior football before work and injuries intervened.
Full forward Blake Walter played in the 2017 senior premiership while skipper Owen Raszkiewicz, Andrew Cooling, Mitch Meadows and Sam Schauble also made appearances in the Ones.
More than a decade after this 2009 premiership Tom Dawson and Dom Woodfield were still anchoring the Reserves team.
As was the case in 1958 this group went on to help form the backbone of the senior club for many years to come.
A footnote- junior teams from First and Second Division played in one competition during the year and were only streamed into their appropriate divisions for the finals series.
Even so OFC suffered just one loss during the season, by 7 points at Upwey. We remain confident that a team including Rosier, Troutman and Fitzgerald would have proven itself the stand out junior team in the whole competition in 2009.
Looking ahead- would enough members of this team play on in 2010 to give us another shot at an U/18 flag ?
PREMIERSHIP SEASON 2009
| | | | | |
| --- | --- | --- | --- | --- |
| ROUND | HOME TEAM | SCORE | AWAY TEAM | SCORE |
| 1 | OLINDA FC | 16.11.107 | SEVILLE | 5.7.37 |
| 2 | HEALESVILLE | 10.6.66 | OLINDA FC | 17.8.110 |
| 3 | POWELLTOWN | 2.2.14 | OLINDA FC | 18.22.130 |
| 4 | OLINDA FC | 22.19.151 | BELGRAVE | 2.4.16 |
| 5 | KINGLAKE | 1.4.10 | OLINDA FC | 23.26.164 |
| 6 | BYE | . | . | . |
| 7 | EMERALD | 6.2.38 | OLINDA FC | 13.16.94 |
| 8 | OLINDA FC | 15.15.105 | WARBURTON | 2.11.23 |
| 9 | YARRA JUNCTION | 5.4.34 | OLINDA FC | 25.12.162 |
| 10 | SEVILLE | 7.7.49 | OLINDA FC | 9.17.71 |
| 11 | BYE | . | . | . |
| 12 | OLINDA FC | 0.0.0 | POWELLTOWN | 0.0.0 FORF |
| 13 | BELGRAVE | 6.7.43 | OLINDA FC | 10.15.75 |
| 14 | OLINDA FC | 31.11.197 | KINGLAKE | 2.2.14 |
| 15 | UPWEY TECOMA | 10.12.72 | OLINDA FC | 9.11.65 |
| 16 | OLINDA FC | 15.11.101 | EMERALD | 10.7.67 |
| 17 | WARBURTON | 0.0.0 FORF | OLINDA FC | 0.0.0 |
| 18 | OLINDA FC | 26.13.169 | YARRA JUNCTION | 6.9.45 |
| | | | | | | |
| --- | --- | --- | --- | --- | --- | --- |
| TEAM | WON | LOST | BYE | FF | % | PTS |
| OLINDA FC | 13 | 1 | 2 | 2 | 322 | 68 |
| UPWEY TECOMA | 17 | 1 | 0 | 0 | 180 | 68 |
| MT EVELYN | 15 | 2 | 1 | 0 | 160 | 64 |
| SEVILLE | 10 | 6 | 2 | 0 | 185 | 48 |
| HEALESVILLE | 11 | 7 | 0 | 0 | 132 | 44 |
| POWELLTOWN | 8 | 7 | 3 | 0 | 101 | 44 |
| EMERALD | 7 | 9 | 2 | 0 | 138 | 36 |
| WARBURTON | 9 | 9 | 0 | 0 | 114 | 36 |
| MONBULK | 9 | 9 | 0 | 0 | 102 | 36 |
| WOORI YALLOCK | 8 | 10 | 0 | 0 | 84 | 32 |
| BELGRAVE | 5 | 11 | 2 | 0 | 58 | 28 |
| ALEXANDRA | 4 | 13 | 1 | 0 | 82 | 20 |
| YARRA JUNCTION | 2 | 13 | 3 | 0 | 27 | 20 |
| KINGLAKE | 2 | 13 | 3 | 0 | 24 | 20 |
| GEMBROOK | 3 | 14 | 1 | 0 | 72 | 16 |
Second Semi Final
Sunday 30th Aug., Healeville Sporting Complex
| | | | | |
| --- | --- | --- | --- | --- |
| OFC | 3.3 | 7.4 | 10.7 | 14.11.95 |
| Seville | 0.2 | 1.4 | 3.5 | 5.8.38 |
Goal Scorers- BWalter 9, A Politcha 2, C Swanson 2, J Mathewson
Best Players- O Raszkiewicz, B Walter, T Dawson, T Lazdins,M Meadows, M Ruigrok
Grand Final
Saturday 12the Sept., Woori Yallock
| | | | | |
| --- | --- | --- | --- | --- |
| OFC | 6.4 | 8.6 | 8.13 | 11.14.80 |
| Emerald | 1.1 | 5.4 | 6.4 | 7.7.49 |
Goal Scorers- B Walter 4, O Raszkiewicz 3, L Van Lierop 2, C Swanson 1, T Dawson 1
Best Players- O Raszkiewicz, H Cole, T Dawson, C Eade, T Lazdins, S Schauble
| | | | |
| --- | --- | --- | --- |
| B | D WOODFIELD | R MacNAB | M RUIGROK |
| H/B | T DAWSON | C BEATTIE | T LAZDINS |
| C | M MEADOWS | O RASZKIEWICZ | S SCHAUBLE |
| H/F | C SWANSON | J WALLIS | A POLICHA |
| F | H COLE | B WALTER | A TARANTO |
| R | C SKUDUTIS | L VAN LIEROP | B OWEN |
| INT | A ARNOLD | A COOLING | C EADE |
| INT | J MATHEWSON | . | . |
| | |
| --- | --- |
| COACH | ANDY GREENALL |
| CAPTAIN | OWEN RASZKIEWICZ |
| B+F | OWEN RASZKIEWICZ |
| BEST IN GF | OWEN RASZKIEWICZ |
| GOAL KICKER | BLAKE WALTER |
Player of the Finals Series-
O Raszkiewicz 12
T Dawson 8
H Cole 5
B Walter 5
T Lazdins 5
C Eade 3
M Meadows 2
M Ruigrok 1
S Schauble 1