2009 Reserves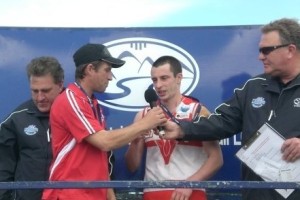 After a devastating 2008 season in First Division a number of former players returned to the Club and strengthened the Seniors as OFC dropped down to Second Division.
Simultaneously OFC could draw on arguably the greatest group of junior footballers to ever wear the red and white jumper.
Consequently some players who had been in the Seniors in 2008 now found themselves adding considerable depth to the Reserves team.
All time greats, the veterans Andy Greenall and Tim Scott, also provided skill and extensive experience to this team. Those two, along with Garrat McDonald who played in the grand final side, boasted seven Senior Best and Fairests between them.
The premiership was a fitting reward for skipper Liam Riddiford and the small group of players who had "toughed it out" in 2008.
Remarkably this was OFC's first Reserves premiership, which is probably reflective of the difficulties a small Club has in building player depth.
PREMIERSHIP SEASON 2009
| | | | | |
| --- | --- | --- | --- | --- |
| ROUND | HOME TEAM | SCORE | AWAY TEAM | SCORE |
| 1 | OLINDA FC | 4.10.34 | SEVILLE | 14.6.90 |
| 2 | YARRA GLEN | 12.14.86 | OLINDA FC | 9.7.61 |
| 3 | POWELLTOWN | 1.1.7 | OLINDA FC | 14.22.106 |
| 4 | OLINDA FC | 20.12.132 | BELGRAVE | 3.5.23 |
| 5 | KINGLAKE | 11.12.78 | OLINDA FC | 11.10.76 |
| 6 | OLINDA FC | 29.9.183 | THORTON EILDON | 2.4.16 |
| 7 | EMERALD | 6.6.32 | OLINDA FC | 14.8.92 |
| 8 | OLINDA FC | 18.11.119 | YEA | 3.5.23 |
| 9 | YARRA JUNCTION | 4.2.26 | OLINDA FC | 22.14.146 |
| 10 | SEVILLE | 5.5.35 | OLINDA FC | 19.12.126 |
| 11 | OLINDA FC | 19.15.129 | YARRA GLEN | 3.2.20 |
| 12 | OLINDA FC | 33.25.223 | POWELLTOWN | 0.1.1 |
| 13 | BELGRAVE | 2.1.13 | OLINDA FC | 16.13.109 |
| 14 | OLINDA FC | 11.16.82 | KINGLAKE | 6.4.40 |
| 15 | THORTON EILDON | 5.6.36 | OLINDA FC | 21.10.136 |
| 16 | OLINDA FC | 14.8.92 | EMERALD | 7.4.46 |
| 17 | YEA | 2.8.20 | OLINDA FC | 12.12.84 |
| 18 | OLINDA FC | 31.11.197 | YARRA JUNCTION | 3.3.21 |
| | | | | |
| --- | --- | --- | --- | --- |
| TEAM | WON | LOST | % | PTS |
| OLINDA FC | 15 | 3 | 341 | 60 |
| KINGLAKE | 14 | 4 | 212 | 56 |
| YARRA GLEN | 14 | 4 | 192 | 56 |
| SEVILLE | 13 | 5 | 220 | 52 |
| EMERALD | 12 | 6 | 169 | 48 |
| YEA | 8 | 10 | 70 | 32 |
| YARRA JUNCTION | 6 | 12 | 52 | 24 |
| BELGRAVE | 4 | 14 | 61 | 16 |
| THORTON EILDON | 3 | 15 | 31 | 12 |
| POWELLTOWN | 1 | 17 | 25 | 4 |
FINALS
| | | | | |
| --- | --- | --- | --- | --- |
| 2ND SEMI | OLINDA FC | 8.8.56 | YARRA GLEN | 2.9.21 |
| | | | | |
| --- | --- | --- | --- | --- |
| GRAND FINAL | OLINDA FC | 14.11.95 | YARRA GLEN | 9.9.63 |
GOALS M STEVENS 4 A BORG 3 T SCOTT 2 F MAASKANT 2 R McKENZIE 1 S LEONE 1 A GREENALL 1

BEST B GREEN S LEONE T WALL M STEVENS F MAASKANT R SLOAN

| | | | |
| --- | --- | --- | --- |
| B | PAUL SIMMONS | LLOYD TANZEN | SHANNON FITZGERALD |
| H/B | GERARD TIMMERMANS | ROD McKENZIE | JAMES O'REILLY |
| C | FRANK MAASKANT | GAVIN NAUTILI | DARREN REID |
| H/F | TIM WALL | TIM SCOTT | MARK STEVENS |
| F | ADAM BORG | ANDY GREENALL | LIAM RIDDIFORD |
| R | BRETT GREEN | RUSSELL SLOAN | SIMON LEONE |
| INT | MICK HARWOOD | TOM BELLONI | KRIS JURESKO |
| INT | GARRATT McDONALD | | |
| | |
| --- | --- |
| COACH | SHANE COLEE |
| CAPTAIN | LIAM RIDDIFORD |
| B+F | ANDY GREENALL |
| BEST IN GF | SIMON LEONE |
| GOAL KICKER | ANDY GREENALL |
You can also learn more about the 2009 flag by clicking on
Club History/More Menus/Archive/2009 Reserves