1965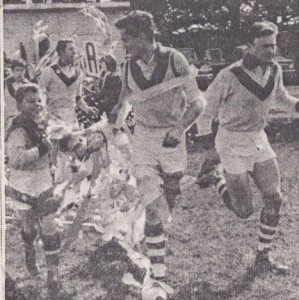 PREMIERSHIP SEASON 1965
This was the first of three consecutive premierships, the famous OFC Triple Treat of flags.
OFC had crossed over to the EDFL from the MDFA and was quick to have a signficant impact on Third Division.
Each of the premierships was special for a different reason.
However four time Premiership player and Life Member Peter Milic rates this one the most satisfying of all.
Peter says OFC lost so many players when it quit the MDFA that the Club almost disbanded.
He gives credit to the tireless work of coach Trevor Billington who revitalised the Club and recruited just enough players to field a team.
In 1965 Coldstream dominated the Division. They went through the Home and Away season undefeated and accrued a percentage of 258%- the biggest in the entire EDFL.
The Second Semi final loss to a resilient OFC was a shock to Coldstream, and indeed the whole EFL.
The two teams went on to meet again in the Grand Final and this time OFC completely eclipsed The Blues.
This flag was OFC's first premiership. Olinda and Ferny Creek had amalgamted in 1946.
We have preserved some articles from the period, and some pics, which are contained in the PDFs below.
| | | | | |
| --- | --- | --- | --- | --- |
| ROUND | HOME TEAM | SCORE | AWAY TEAM | SCORE |
| 1 | RINGWOOD ROVERS | 14.15.99 | OLINDA FC | 9.19.73 |
| 2 | OLINDA FC | 9.11.65 | NORWOOD HIGH | 10.8.68 |
| 3 | MONTROSE | 4.7.31 | OLINDA FC | 5.9.39 |
| 4 | OLINDA FC | 8.8.56 | MT EVELYN | 7.6.48 |
| 5 | BYE | . | . | . |
| 6 | OLINDA FC | 16.15.111 | ROWVILLE | 6.1.37 |
| 7 | WANDIN | 7.10.52 | OLINDA FC | 9.13.67 |
| 8 | OLINDA FC | 8.10.58 | SILVAN | 3.4.22 |
| 9 | COLDSTREAM | 13.17.95 | OLINDA FC | 10.12.72 |
| 10 | OLINDA FC | 10.14.74 | RINGWOOD ROVERS | 7.11.53 |
| 11 | NORWOOD HIGH | 6.3.39 | OLINDA FC | 14.19.103 |
| 12 | OLINDA FC | 8.13.61 | MONTROSE | 1.6.12 |
| 13 | MT EVELYN | 5.1.31 | OLINDA | 10.19.79 |
| 14 | BYE | . | . | . |
| 15 | ROWVILLE | 6.8.44 | OLINDA FC | 13.8.86 |
| 16 | OLINDA FC | 10.5.65 | WANDIN | 5.8.38 |
| 17 | SILVAN | 0.2.2 | OLINDA FC | 10.12.72 |
| 18 | OLINDA FC | 7.11.53 | COLDSTREAM | 11.7.73 |
| | | | | | |
| --- | --- | --- | --- | --- | --- |
| TEAM | WON | LOST | BYE | % | PTS |
| COLDSTREAM | 16 | 0 | 2 | 258 | 72 |
| OLINDA FC | 12 | 4 | 2 | 153 | 56 |
| WANDIN | 12 | 4 | 2 | 149 | 56 |
| RINGWOOD ROVERS | 10 | 6 | 2 | 135 | 48 |
| NORWOOD HIGH | 6 | 10 | 2 | 73 | 32 |
| MONTROSE | 5 | 11 | 2 | 73 | 28 |
| ROWVILLE | 5 | 11 | 2 | 50 | 28 |
| MT EVELYN | 4 | 12 | 2 | 83 | 24 |
| SILVAN | 2 | 14 | 2 | 49 | 16 |
FINALS
| | | | | |
| --- | --- | --- | --- | --- |
| 2ND SEMI | OLINDA FC | 10.7.67 | COLDSTREAM | 8.10.58 |
| | | | | |
| --- | --- | --- | --- | --- |
| GRAND FINAL | OLINDA FC | 17.9.111 | COLDSTREAM | 7.12.54 |
GOALS PAUL JONES 7 M HARTLEY 2 J ISLING 2 P MILIC 2 D McCARTHY 2 D HARRIS 1 W CAKEBREAD 1
BEST P JONES K RANKIN P MILIC R FOWLER S GAMMON P VAN BERKEL
PREMIERSHIP TEAM
| | | | |
| --- | --- | --- | --- |
| B | S GAMMON | C MATTHEWS | T MYERS |
| H/B | P VAN BERKEL | G RAYNOR | Y VERSTEEGE |
| C | K RANKIN | R FOWLER | I JONES |
| H/F | M PEEL | P MILIC | J ISLING |
| F | B VERNON | PAUL JONES | B McCARTHY |
| R | M HARTLEY | D HARRIS | D McCARTHY |
| INT | N BRADSHAW | W CAKEBREAD | . |
| | |
| --- | --- |
| COACH | TREVOR BILLINGTON |
| CAPTAIN | SANDY GAMMON |
| B+F | PETER MILIC |
| BEST IN GF | PAUL JONES |
| GOAL KICKER | PAUL JONES |