1966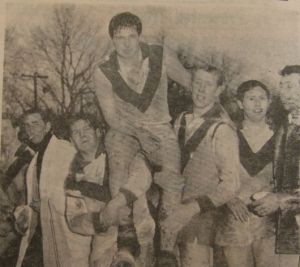 PREMIERSHIP SEASON 1966


After such a convincing Grand Final performance in 1965 the question was "could Olinda-Ferny Creek maintain the momentum?"
Trevor Billington was again coach and Sandy Gammon skipper.
However OFC had recruited two key players.
Former U/16 premiership player Peter Jones returned to the Club from Port Melbourne and dual OFC Best and Fairest winner David Daly also joined the Red and White.
Even so there were few signs during the season that OFC were favourites to go back to back.
We finished third on the ladder, behind Norwood (High School) and Wandin after losing four of the first seven games.
Significantly OFC steadily improved and beat both Norwood and Wandin late in the season.
We then disposed of old rivals Coldstream and Norwood in the finals and set up a showdown against Wandin.
In probably the most exciting Grand Final the club has ever played we won by a point, with the last kick of the game.
Please click on the PDF below to read about this extraordinary game and it's fairytale finish.
Historical Perspective- could OFC keep this group together and go on to enjoy yet more finals success? To find out proceed to the next year, 1967
| | | | | |
| --- | --- | --- | --- | --- |
| ROUND | HOME TEAM | SCORE | AWAY TEAM | SCORE |
| 1 | OLINDA FC | 7.14.56 | MT EVELYN | 5.7.37 |
| 2 | RINGWOOD ROVERS | 17.20.122 | OLINDA FC | 8.14.62 |
| 3 | COLDSTREAM | 15.5.95 | OLINDA FC | 7.11.53 |
| 4 | OLINDA FC | 8.10.58 | ROWVILLE | 1.10.06 |
| 5 | NORWOOD HIGH | 11.20.86 | OLINDA FC | 4.17.41 |
| 6 | OLINDA FC | 10.16.76 | MONTROSE | 7.7.49 |
| 7 | WANDIN | 15.14.104 | OLINDA FC | 8.10.58 |
| 8 | OLINDA FC | 11.11.77 | YARRA GLEN | 3.9.27 |
| 9 | MOOROOLBARK | 7.5.47 | OLINDA FC | 5.11.41 |
| 10 | MT EVELYN | 10.11.71 | OLINDA FC | 12.21.93 |
| 11 | OLINDA FC | 9.14.68 | RINGWOOD ROVERS | 4.7.31 |
| 12 | OLINDA FC | 9.9.63 | COLDSTREAM | 3.6.24 |
| 13 | ROWVILLE | 5.8.38 | OLINDA | 8.11.59 |
| 14 | OLINDA | 11.16.82 | NORWOOD HIGH | 7.10.52 |
| 15 | MONTROSE | 7.9.51 | OLINDA FC | 13.17.95 |
| 16 | OLINDA FC | 6.9.45 | WANDIN | 3.8.26 |
| 17 | YARRA GLEN | 4.4.28 | OLINDA FC | 11.20.86 |
| 18 | OLINDA FC | 31.29.215 | MOOROOLBARK | 5.4.34 |
| | | | | | |
| --- | --- | --- | --- | --- | --- |
| TEAM | WON | LOST | DRAW | % | PTS |
| NORWOOD HIGH | 15 | 3 | 0 | 147 | 60 |
| WANDIN | 14 | 4 | 0 | 129 | 56 |
| OLINDA FC | 13 | 5 | 0 | 143 | 52 |
| COLDSTREAM | 12 | 6 | 0 | 157 | 48 |
| RINGWOOD ROVERS | 12 | 6 | 0 | 112 | 48 |
| MT EVELYN | 8 | 9 | 1 | 101 | 32 |
| YARRA GLEN | 5 | 13 | 0 | 80 | 20 |
| MOOROOLBARK | 5 | 13 | 0 | 58 | 32 |
| ROWVILLE | 3 | 15 | 0 | 74 | 12 |
| MONTROSE | 2 | 15 | 1 | 45 | 10 |
FINALS
| | | | | |
| --- | --- | --- | --- | --- |
| 1ST SEMI | OLINDA FC | 10.14.74 | COLDSTREAM | 9.8.62 |
| | | | | |
| --- | --- | --- | --- | --- |
| PRELIM | OLINDA FC | 12.14.86 | NORWOOD HIGH | 9.14.68 |
| | | | | |
| --- | --- | --- | --- | --- |
| GRAND FINAL | OLINDA FC | 6.19.55 | WANDIN | 8.6.54 |
GOALS PAUL JONES 3 B VERNON 1 B McCARTHY 1 J FOWLER
BEST S GAMMON PETER JONES PAUL JONES D MCCARTHY B McCARTHY G ORR
PREMIERSHIP TEAM
| | | | |
| --- | --- | --- | --- |
| B | S GAMMON | C MATTHEWS | M PEEL |
| H/B | P VAN BERKEL | P MILIC | Y VERSTEEGE |
| C | J ISLING | K RANKIN | G ORR |
| H/F | D DALY | R FOWLER | D BROWN |
| F | B VERNON | PAUL JONES | B McCARTHY |
| R | PETER JONES | D HARRIS | D McCARTHY |
| INT | N BRADSHAW | W CAKEBREAD | . |
| | |
| --- | --- |
| COACH | TREVOR BILLINGTON |
| CAPTAIN | SANDY GAMMON |
| B+F | PETER MILIC |
| BEST IN GF | SANDY GAMMON |
| GOAL KICKER | PAUL JONES |