1967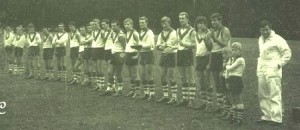 PREMIERSHIP SEASON 1967
After back to back premiership wins OFC still remained in Third Division of the EDFL competition in 1967.
This was because the EDFL insisted clubs could only be promoted to Second Division if they had Reserves team.
OFC's dominance of the Division forced the EDFL to make an exception to the rule and The Bloods were promoted in 1968
Again they recruited strongly signing a new captain coach , Arthur Gill, who played at centre half back.
Sadly Arthur suffered a serious hand injury in a mechanical accident in the week prior to the Grand Final and after a stellar season was unable to take his place in the team.
The mercurial John Bye also joined senior ranks. John had won the League U/16 Best and Fairest in 1966. In 1968 he won the Division 2 Senior Best and Fairest as an 18 year old.
His father Bill was a triple Best and Fairest winner in the 1930s.
As you can see from the line up below John played on the ball alongside the irrepressible Peter Jones and an MDFA Best and Fairest winner David McCarthy.
So OFC was able to put a formidale team into the field in 1967 and lost only two games, to Rowville and arch rival Coldstream.
By the end of the season OFC's percentage of 244% was 100% more than second placed Coldstream.
OFC won both finals games convincingly and was promoted to Second Division where the Club also figured prominently in the 1968 season, losing the first semi final to UFTG by eight points.
Historical perspective- this was doubtlessly OFC's best team since the great Ferny Creek sides of the 1920s (when we played five grand finals in a row).
We may have to go another 50 years into the future, 2017, to find a comparable line-up. The 2017 team won the YVMDNFL Division One Grand Final by a record margin.
Some will also argue that the 1978 team deserves a mention in this context. After winning the Third Division flag in the EDFL this side made the Division 2 Preliminary Final in 1981.
| | | | | |
| --- | --- | --- | --- | --- |
| ROUND | HOME TEAM | SCORE | AWAY TEAM | SCORE |
| 1 | OLINDA FC | 14.14.98 | NORTH RINGWOOD | 7.17.59 |
| 2 | WANTRINA STH | 8.10.58 | OLINDA FC | 28.22.190 |
| 3 | OLINDA FC | 10.12.72 | COLDSTREAM | 8.8.56 |
| 4 | ROWVILLE | 6.12.48 | OLINDA FC | 5.10.40 |
| 5 | OLINDA FC | 17.39.141 | MONTROSE | 2.2.14 |
| 6 | MT EVELYN | 12.7.79 | OLINDA FC | 21.24.150 |
| 7 | OLINDA FC | 11.12.78 | MOOROOLBARK | 11.8.74 |
| 8 | YARRA GLEN | 5.14.44 | OLINDA FC | 13.17.95 |
| 9 | OLINDA FC | 12.13.85 | WANDIN | 6.9.45 |
| 10 | NTH RINGWOOD | 8.13.61 | OLINDA FC | 18.23.121 |
| 11 | OLINDA FC | 22.16.148 | WANTIRNA STH | 1.7.13 |
| 12 | COLDSTREAM | 5.10.40 | OLINDA FC | 3.10.28 |
| 13 | OLINDA FC | 9.14.68 | ROWVILLE | 5.5.35 |
| 14 | MONTROSE | 4.2.26 | OLINDA FC | 26.29.185 |
| 15 | OLINDA FC | . | MT EVELYN | . |
| 16 | MOOROOLBARK | 6.4.40 | OLINDA FC | 21.13.139 |
| 17 | OLINDA FC | 6.12.48 | YARRA GLEN | 1.6.12 |
| 18 | WANDIN | 8.7.55 | OLINDA FC | 18.20.128 |
| | | | | |
| --- | --- | --- | --- | --- |
| TEAM | WON | LOST | % | PTS |
| OLINDA FC | 16 | 2 | 244 | 64 |
| COLDSTREAM | 14 | 4 | 144 | 56 |
| MOOROOLBARK | 12 | 6 | 144 | 48 |
| ROWVILLE | 11 | 7 | 142 | 44 |
| YARRA GLEN | 8 | 10 | 109 | 32 |
| NORTH RINGWOOD | 8 | 10 | 101 | 32 |
| WANDIN | 8 | 10 | 96 | 32 |
| MT EVELYN | 8 | 10 | 88 | 32 |
| WANTIRNA STH | 3 | 15 | 42 | 12 |
| MONTROSE | 0 | 18 | 45 | 0 |
FINALS
| | | | | |
| --- | --- | --- | --- | --- |
| 2ND SEMI | OLINDA FC | 8.14.62 | COLDSTREAM | 3.9.27 |
| | | | | |
| --- | --- | --- | --- | --- |
| GRAND FINAL | OLINDA FC | 7.14.56 | MOOROOLBARK | 2.4.16 |
Goals Paul Jones 4 Peter Jones 3
PREMIERSHIP TEAM
| | | | |
| --- | --- | --- | --- |
| B | D HARRIS | C MATTHEWS | S GAMMON |
| H/B | P VAN BERKEL | G RAYNOR | Y VERSTEEGE |
| C | J ISLING | K RANKIN | G ORR |
| H/F | D DALY | R FOWLER | P MILIC |
| F | B VERNON | PAUL JONES | D BROWN |
| R | PETER JONES | J BYE | D McCARTHY |
| INT | B SMITH | G FANNING | . |
| | |
| --- | --- |
| COACH | ARTHUR GILL |
| CAPTAIN | ARTHUR GILL |
| B+F | GRAHAM RAYNOR |
| BEST IN GF | . |
| GOAL KICKER | PAUL JONES |