1978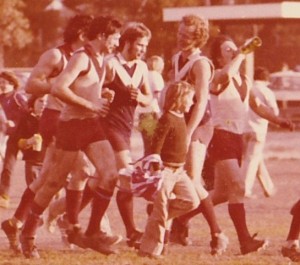 PREMIERSHIP SEASON 1978

Derry Robertson, a former MDFA Best and Fairest winner with the Emerald club, was in his second year as OFC Captain/Coach in 1978.
By this time OFC was back in Third Division of the EDFL.
This team was a well blended combination of exciting youth - Shane Fitzgerald, Michael Grimes, Stewart Gardiner and Ian Jennens- and experienced veterans- Roberston, Peter Hayne, Graeme O'Donnell and Peter Milic.
OFC had also benefited from recruiting the Koelewyn brothers from Monbulk,rover Mick Henderson from Mt Evelyn and centreman Danny Hanlon from East Ringwood.
An unusual feature of the season was the massive scorelines kicked by OFC, and at times by our opponents.
We scored over 100 points in 12 of the 18 games. Three players, Henderson, Hayne and Grimes, kicked over 40 goals.
Forest Hill was the stand out team of 1978.
However the Zebras had their colours lowered in a July trip to Olinda when the home team scored two late goals on the back of controversial decisions involving the veteran Hayne.
Subsequently Forest Hill's season lost momentum and OFC thrashed them by 72 points in the Second Semi before accounting for a plucky Coldstream in the Grand Final.
Historical Perspective- the core group of this team went on to have a major impact in EDFL Second Division under David Quinn.
In particular OFC kicked 9.20 to lose a Second Semi against Blackburn in 1980 and the following year went a step further, losing a Prelim to Doncaster. It was an ill-tempered match that many thought OFC could have won and earned a shot at promotion to First Division.
| | | | | |
| --- | --- | --- | --- | --- |
| ROUND | HOME TEAM | SCORE | AWAY TEAM | SCORE |
| 1 | SANDOWN | 12.7.79 | OLINDA FC | 10.18.78 |
| 2 | OLINDA FC | 27.22.184 | WANTIRNA STH | 14.11.95 |
| 3 | MOOROOLBARK | 7.17.59 | OLINDA FC | 11.18.84 |
| 4 | OLINDA FC | 17.24.126 | MONTROSE | 18.19.127 |
| 5 | NUNNAWADING | 24.9.153 | OLINDA FC | 21.19.145 |
| 6 | OLINDA FC | 18.23.131 | YARRA GLEN | 6.7.43 |
| 7 | THE BASIN | 13.10.88 | OLINDA FC | 23.16.154 |
| 8 | OLINDA FC | 19.14.128 | WARRANDYTE | 9.12.66 |
| 9 | NORWOOD | 14.14..98 | OLINDA FC | 16.16.112 |
| 10 | OLINDA FC | 10.8.68 | COLDSTREAM | 2.8.20 |
| 11 | BYE | . | . | . |
| 12 | ROWVILLE | 6.5.41 | OLINDA FC | 9.12.66 |
| 13 | OLINDA FC | 18.12.120 | FOREST HILL | 18.10.118 |
| 14 | OLINDA FC | 22.23.155 | SANDOWN | 1.6.12 |
| 15 | WANTIRNA STH | 0.5.5 | OLINDA FC | 20.14.134 |
| 16 | OLINDA FC | 14.13.97 | MOOROOLBARK | 11.9.75 |
| 17 | MONTROSE | 10.16.76 | OLINDA FC | 18.13.121 |
| 18 | OLINDA FC | 16.15.111 | NUNNAWADING | 10.17.79 |
| | | | | | |
| --- | --- | --- | --- | --- | --- |
| TEAM | WON | LOST | BYE | % | PTS |
| FOREST HILL | 13 | 2 | 2 | 156 | 62 |
| OLINDA FC | 14 | 3 | 1 | 164 | 60 |
| COLDSTREAM | 12 | 5 | 1 | 125 | 52 |
| ROWVILLE | 12 | 5 | 1 | 113 | 52 |
| MONTROSE | 11 | 5 | 1 | 131 | 50 |
| NORWOOD | 10 | 7 | 1 | 106 | 44 |
| WARRANDYTE | 9 | 7 | 2 | 106 | 44 |
| MOOROOLBARK | 8 | 9 | 1 | 94 | 36 |
| NUNNAWADING | 7 | 9 | 1 | 92 | 34 |
| YARRA GLEN | 4 | 12 | 2 | 81 | 24 |
| SANDOWN | 3 | 12 | 2 | 61 | 22 |
| THE BASIN | 3 | 13 | 2 | 90 | 20 |
| WANTIRNA STH | 0 | 17 | 1 | 43 | 4 |
FINALS
| | | | | |
| --- | --- | --- | --- | --- |
| 2ND SEMI | FOREST HILL | 7.4.46 | OLINDA FC | 18.10.118 |
| | | | | |
| --- | --- | --- | --- | --- |
| GRAND FINAL | OLINDA FC | 14.9.93 | COLDSTREAM | 10.13.73 |
GOALS PETER HAYNE 3
BEST L KOELEWYN J GRAHAM S FITZGERALD P MILIC P THORTON R WALL



PREMIERSHIP TEAM
| | | | |
| --- | --- | --- | --- |
| B | JOHN PANIOTY | JEFF KOELEWYN | STEVE HARRIS |
| H/B | JOHN GRAHAM | PETER THORTON | LEO KOELEWYN |
| C | STUART GARDINER | DANNY HANLON | RICK WALL |
| H/F | MICK GRIMES | BRUCE LOWERY | SHANE FITZGERALD |
| F | IAN JENNINGS | PETER HAYNE | JEFF ROBERTS |
| R | PETER MILIC | DERRY ROBERTSON | MICK HENDERSON |
| INT | G O'DONNELL | IAN BOULTER | . |
| | |
| --- | --- |
| COACH | DERRY ROBERTSON |
| CAPTAIN | DERRY ROBERTSON |
| B+F | MICK HENDERSON |
| BEST IN GF | LEO KOELEWYN |
| GOAL KICKER | MICK HENDERSON |