1988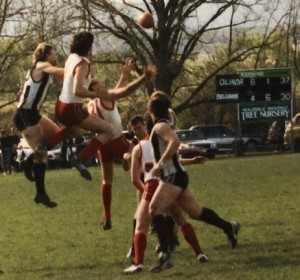 PREMIERSHIP SEASON 1988

OFC did itself no favours in terms of local football by quitting the MDFL when it was at a low ebb in the mid 1960s then rejoining 20 years later (YVMDFL) when it was facing similar onfield issues.
Consequently OFC found itself in Second Division in 1988 under Playing Coach Ian Symons, a local school teacher from Golden Square in Bendigo.
The club continued to recruit skilled footballers from the Ringwood Cricket Club. Paul Jones was the original link between OFC and RCC.
Centreman Noel King and back pocket Brett Clarke came to us via this relationship. King would go on to become one of OFC's greatest players, winning four Best and Fairest awards.
OFC also benefitted greatly from a particuarly strong group of local youngters who had come through the juniors including Michael Scott, Andrew Greenall and Grant Faull.
That trio won 10 Best and Fairests between them, along with two League awards (Scott and Greenall).
Stephen Rose and Greg Hill provided a very potent ruck combination.
OFC earmarked itself as the team to beat in the first round of the season with an eight goal win at Belgrave.
Twice during the year we kicked over 300 points ( against Panton Hill and South Belgrave).
OFC then defeated Belgrave in straight sets in the finals to take the 1988 Flag.
Historical Perspective- the key group of players in this team would go on to challenge for the Division One premiership three years later.
Dual Best and Fairest winner and former coach Shane Fitzgerald returned to OFC for this tilt at Div One glory. Ironically Fitzgerald had played for Belgrave in the 1988 season.
| | | | | |
| --- | --- | --- | --- | --- |
| ROUND | HOME TEAM | SCORE | AWAY TEAM | SCORE |
| 1 | BELGRAVE | 12.13.85 | OLINDA FC | 20.16.136 |
| 2 | OLINDA FC | 20.17.137 | YARRA JUNCTION | 11.9.75 |
| 3 | POWELLTOWN | 10.11.71 | OLINDA FC | 16.16.112 |
| 4 | OLINDA FC | 24.23.167 | STH BELGRAVE | 3.7.25 |
| 5 | OLINDA FC | 47.29.311 | PANTON HILL | 0.0.0 |
| 6 | SILVAN | 13.14.92 | OLINDA FC | 15.15.105 |
| 7 | OLINDA FC | 19.12.126 | WANDIN | 11.12.78 |
| 8 | OLINDA FC | 15.10.100 | BELGRAVE | 7.10.52 |
| 9 | YARRA JUNCTION | 8.15.63 | OLINDA FC | 26.21.177 |
| 10 | OLINDA FC | 13.16.94 | POWELLTOWN | 6.3.39 |
| 11 | STH BELGRAVE | 1.2.8 | OLINDA FC | 33.20.228 |
| 12 | PANTON HILL | 5.4.34 | OLINDA FC | 36.16.232 |
| 13 | OLINDA FC | 16.10.106 | SILVAN | 5.5.35 |
| 14 | WANDIN | 11.16.82 | OLINDA FC | 15.18.108 |
| 15 | BELGRAVE | 14.6.90 | OLINDA FC | 7.9.51 |
| 16 | OLINDA FC | 20.18.138 | YARRA JUNCTION | 1.4.10 |
| 17 | POWELLTOWN | 14.8.92 | OLINDA FC | 13.13.91 |
| 18 | OLINDA FC | 48.33.321 | STH BELGRAVE | 3.4.22 |
| | | | | |
| --- | --- | --- | --- | --- |
| TEAM | WON | LOST | % | PTS |
| OLINDA FC | 16 | 2 | 287 | 64 |
| BELGRAVE | 15 | 3 | 206 | 60 |
| WANDIN | 14 | 4 | 204 | 56 |
| POWELLTOWN | 11 | 7 | 139 | 44 |
| SILVAN | 8 | 10 | 98 | 32 |
| YARRA JUNCTION | 5 | 13 | 73 | 20 |
| PANTON HILL | 2 | 16 | 26 | 8 |
| STH BELGRAVE | 1 | 17 | 31 | 4 |
FINALS
| | | | | |
| --- | --- | --- | --- | --- |
| 2ND SEMI | OLINDA FC | 14.13.97 | BELGRAVE | 11.9.75 |
| | | | | |
| --- | --- | --- | --- | --- |
| GRAND FINAL | OLINDA FC | 23.17.155 | BELGRAVE | 13.16.94 |
GOALS S ROSE 4 B SYMMONS 4 M DENGERINK 3 M SCOTT 3 N KING 2 S SMITH 2


BEST G FAULL M DENGERINK S SMITH A GREENALL

| | | | |
| --- | --- | --- | --- |
| B | JOHN PALLOT | MARTY RANKIN | BRETT CLARKE |
| H/B | IAN SYMONS | BILL PALLOT | STEWART BEALE |
| C | GRANT FAULL | NOEL KING | CHRIS WHITTAKER |
| H/F | SHANE SMITH | BRIAN SYMMONS | MARK DENGERINK |
| F | ADAM GAWRONSKI | STEPHEN ROSE | STUART GARDINER |
| R | GREG HILL | ANDY GREENALL | MICK SCOTT |
| INT | GEOFF WRIGHT | MICHAEL DUIGAN | . |
| | |
| --- | --- |
| COACH | IAN SYMONS |
| CAPTAIN | IAN SYMONS |
| B+F | NOEL KING |
| BEST IN GF | GRANT FAULL |
| GOAL KICKER | BRIAN SYMMONS |